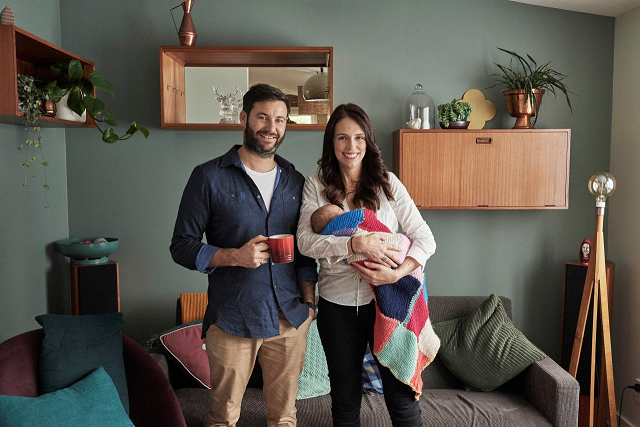 ---
WELLINGTON: New Zealand Prime Minister Jacinda Ardern returned to work on Thursday just six weeks after delivering her first child, having become the first premier in the nation's history to take maternity leave while in office.

The 38-year-old premier's pregnancy was seen by many as a symbol of progress for women in leadership roles as she became only the second elected leader, after Pakistan's Benazir Bhutto in 1990, to have given birth in office.

"Day to day I'm worrying about feeding, sleeping and nappies and then there's this overlay of interest in something that is actually mundane," Ardern said in an interview with Television New Zealand.

New Zealand Prime Minister Jacinda Ardern gives birth to first child

"I'm just perhaps amongst some of the first who are doing something that hasn't been done very often, but one day it will be normal."

New Zealand's parliament has worked to become more baby-friendly in recent months and Ardern's daughter, Neve Te Aroha, will be allowed to cuddle with her mother during debates and swim in the pool alongside other legislators' children.




Ardern's stratospheric rise to become the country's youngest prime minister and third woman to hold the office resulted in New Zealanders coining the phrase "Jacinda-mania" and her personal approval ratings have been at historic highs.

She emerged as leader of the then-struggling Labour Party a year ago, just weeks before a general election that ended almost a decade of center-right National Party rule.

Highchairs and cuddles: how parliaments are catering for lawmaker moms

While she was on maternity leave, the coalition government was led by Deputy Prime Minister and Foreign Minister Winston Peters, who will attend a Southeast Asian summit in Singapore this week.

"They have been the fastest six weeks of my life...but it's been wonderful" Ardern said.

Ardern will leave her home town of Auckland to return to the capital, Wellington, on Saturday. Her partner, Clarke Gayford, will care for the baby full-time while she takes her place in parliament on Tuesday.

Ardern said in media interviews that Neve would travel with her for the timebeing given she is breastfeeding and would accompany her on a trip to New York for the UN General Assembly meeting in September.

NZ Prime Minister Ardern names new-born daughter

Ardern said she would focus on the government's priorities of mental health, the environment, trade and the economy as she returned to work.

She will also face some looming challenges, including plummeting business confidence, which economists worry could dampen economic growth, and the threat of a pay strike by primary school teachers.

"We need to modernize our economy, that by default means there will be change and that does create a level of uncertainty," she told Television New Zealand. "My intention is really to be at the fore of leading that change so that we can instill that confidence and that business see that we address the challenges we have as a country."