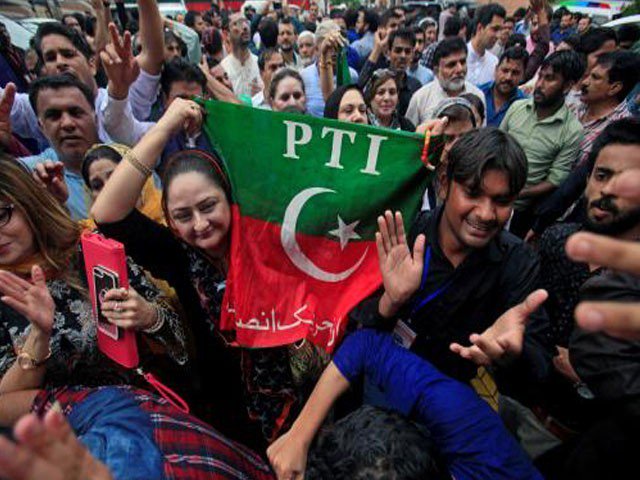 ---
JHELUM: Like other part of the country there was euphoria in Jhelum. People were dancing in the streets on beats of traditional drums to celeberate victory of Pakistan Tehreek-e-Insaf (PTI).

The results have confirmed that the people of Jhelum have uprooted Pakistan Muslim League-Nawaz (PML-N) from its stronghold.

Once considered a 'tiger's den' Jhelum saw people stamping on 'bat' in droves sending the former rulers packing home.

The candidates, workers and supporters of PTI were still in party mood two days after the election as they continued to celebrate their victory in different parts of the city.

Many were seen dancing to the tune of party songs, while others distributed sweets and sprinkled the candidates with flower petals. The whole Jhelum echoed with "Tabdeeli agayi hai" (change is here).

As per unofficial results, the NA-66 constituency has been won by PTI's Chaudhry Farrukh Altaf who secured an astounding 112,356 votes against PML-N's Chaudhry Nadeem Khadim who got 92,912 votes. PTI therefore won comfortably with a safe margin of 19,444 votes.

In NA-67, PTI's Fawad Chaudhry is reported to have secured 93,380 votes against PML-N's Raja Matloob Mehdi's 82,731 votes. PTI here won with a margin of 10,649 votes.

In the provincial constituencies, unofficial results for PP-25 show that PTI's Raja Yawer Kamal secured 59,717 votes against PML-N's Mehr Muhammad Fayyaz 56,421 votes. PTI therefore won by 3,296 votes against PML-N in PP 25.

Similarly, PP-26 was won by PTI's Chaudhry Zafar Iqbal, secured 64,051 votes against PML N's Chaudhry Talal Hussain with 41,603 votes. Hence, PTI safely won the PP-26 seat by a margin of 22,448 votes.

Likewise, in PP-27 constituency, PTI's Fawad Hussain beat PML-N's Nasir Mehmood by 1,766 votes. Hussain got a total of 67,003 votes against PML-N's 65,237 votes.

Government officers in Jhelum have welcomed the victory of PTI. They said that the country was in dire need of changes and that Imran Khan would prove to be a good figure for the country's institutions. "We hope that Imran Khan will fulfil what he has committed. His plans and his victory speech were remarkable. It is hoped that he would stand by his promises," said a senior officer bureaucrat of the city, while requesting anonymity.

Published in The Express Tribune, July 28th, 2018.