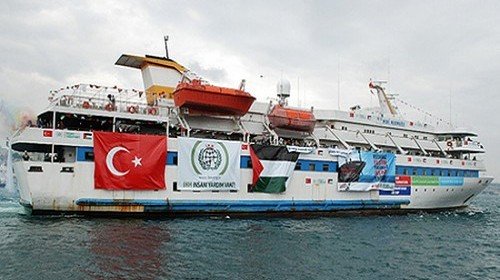 ---
UNITED NATIONS: Israeli Prime Minister Benjamin Netanyahu expressed regret after at least nine people died when troops stormed ships carrying aid for Gaza.

Netanyahu claimed that the soldiers had been defending themselves after they were "clubbed, beaten and stabbed".

After widespread international condemnation of Israel's attacks on the aid ship, the United Nations Security Council is holding an emergency meeting.

The Turkish Foreign Minister Ahmet Davutoglu told the Security Council that Israel "lost all legitimacy" after conducting a raid against an aid flotilla that killed at least nine people,

"A nation state that follows this path has lost its legitimacy as a respectful member of the international community," he said at the emergency session of the council.

"Israel has committed a serious crime, in total disregard of all the values that we have vowed to uphold since the establishment of the United Nations system," said Davutoglo.

Reports suggested that most of those killed in the early morning raid were Turks, and Ankara has responded with outrage to the incident, recalling its ambassador to Israel.

Turkish Prime Minister Recep Tayyip Erdogan speaking earlier Monday in  Chile accused Israel of practicing "state terror," and rejected Israeli claims that activists on the ships were armed.

"These boats that left from Turkey and other countries were checked in a strict way under the framework of the rules of international navigation and were only loaded with humanitarian aid," he said, before cutting short his trip to return to Ankara.

At Turkey's request, NATO will hold emergency talks on the incident on Tuesday.
COMMENTS (12)
Comments are moderated and generally will be posted if they are on-topic and not abusive.
For more information, please see our Comments FAQ