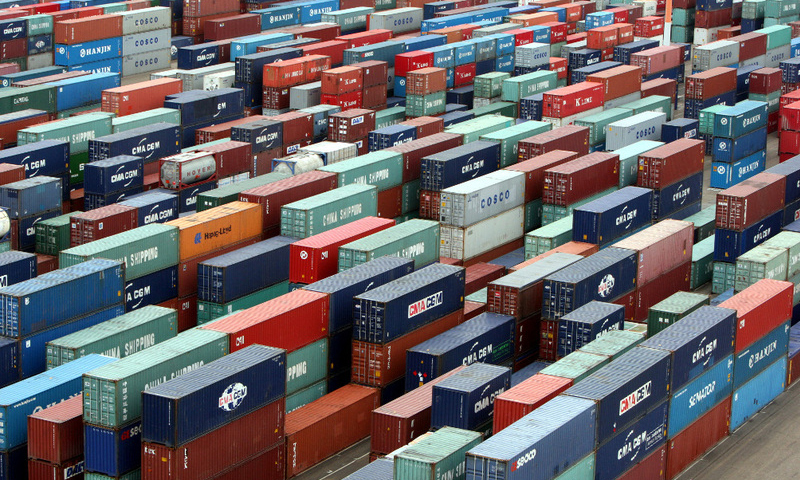 ---
ISLAMABAD: Nearly half of Pakistan's total exports of $24.2 billion were shipped to just six countries and the United States once again remained the top destination that purchased $3.9 billion worth of goods in the last fiscal year.

The State Bank of Pakistan (SBP) data showed that shipments to almost all regions of the world increased during fiscal year 2017-18. Nevertheless, the exporters and policymakers will have to expand their outreach as receipts from six countries were 48% of total exports.

The US, United Kingdom, China, Afghanistan, the United Arab Emirates and Germany were the six countries that bought more than $1 billion of goods each from Pakistan in FY18.

Although export receipts were only 7.7% of the total size of economy, the downward slide stopped in the year. The fastest growth was registered in exports to Sri Lanka that surged 35.6% to $339 million, followed by Afghanistan where shipments rose over 30% to $1.5 billion.

The US - world's biggest economy - remained the top destination for Pakistan's exports that stood at $3.86 billion. There was an increase of 4.8% in shipments to the US.

Pakistan's trade deficit skyrockets to historic high

The UK - the sixth biggest economy - was the second major destination. Pakistan exported $1.8 billion worth of goods to the UK, registering 9.2% growth.

China - the world's second biggest economy - was Pakistan's third largest export destination. Pakistan made $1.74 billion of shipments, an increase of 7.3% over previous year.

However, imports from China grew at almost double the pace of exports and stood at $11.5 billion.

Exports to Afghanistan amounted to $1.47 billion in FY18, an increase of $343 million or 30.2%. Receipts from Kabul were the fourth highest in the year.

Exports to the UAE stood at $1.37 billion - the fifth highest - and registered 29.5% growth over previous year.

Germany - the fourth biggest economy of the world - purchased $1.36 billion of goods from Pakistan. Exports to Berlin recorded a double-digit growth.

Pakistan has $12.8b untapped potential for exports

There were two positive trends in the last fiscal year. First, except for Iran, Pakistan's exports to all neighbouring countries grew and second, shipments to European Union member states increased 13.2% to $8.3 billion.

Receipts from Europe were more than one-third of total exports.




In the first four years of the Pakistan Muslim League-Nawaz (PML-N) government, the exports cumulatively plummeted one-fifth, but the trend reversed in its last year.

The PML-N abandoned its fixed exchange rate policy only after the exit of former finance minister Ishaq Dar.

However, the policy adopted after that was another extreme. Former prime minister Shahid Khaqan Abbasi let the rupee depreciate 9.4% against the US dollar from December to May 2017-18. But the caretaker government went a step further that had already let the rupee weaken by about 11.8% in less than two months.

Abbasi's government had left the rupee-dollar parity at slightly over Rs115, which now stands at around Rs128.50 in the inter-bank market.

Many independent experts have disapproved of the exchange rate policy being implemented by the caretaker government.

Exports to touch $24b mark this year

According to the International Monetary Fund's assessment, Pakistani rupee was overvalued by at least 10% against the US currency, which significantly eroded its competitiveness in the global market.

Pakistan's exports to Latin America stood at a mere $36.3 million in fiscal year 2017-18, 9.3% higher than the preceding year. Exports to South America stood at $256.2 million, up 9.4%. Pakistan has a trade mission in Sao Paulo, Brazil.

Exports to Central American countries amounted to only $137.5 million, up 6.9%. Export receipts from North America stood at $4.1 billion, an increase of 5.2%.

Exports to eastern Europe surged 18.6% to $536 million whereas shipments to northern Europe rose 9.5% to $2.3 billion. Exports to southern Europe increased 18.2% to $2.1 billion and to western Europe they went up 14% to $3.4 billion.

Shipments to East Asian nations increased about 4% to $2.5 billion, mainly because of exports to China.

Unlike the previous year, this time exports to the South Asian region was on the higher side.

Pakistan exported $3 billion of goods to its South Asian neighbours, an increase of 23% or $573 million.

Exports to Afghanistan increased 30.2% to $1.5 billion whereas exports to Bangladesh surged 16.2% to $724.7 million and to Sri Lanka they rose 35.6% to $339.6 million. Exports to India increased just 2.5% to $418 million.