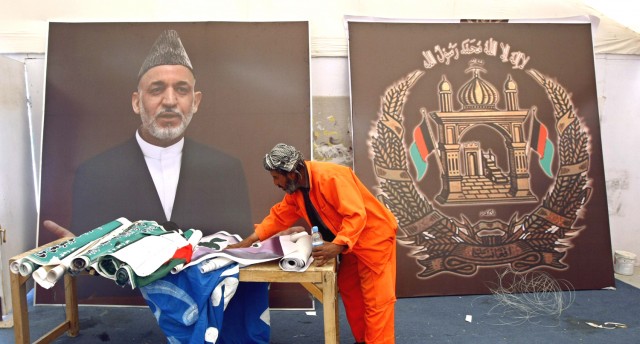 ---
KABUL: Hundreds of community, political and religious leaders from across Afghanistan have been arriving in Kabul on Monday for a crucial peace conference, or "jirga" that could set the agenda for ending years of war.

As security was tightened on the capital with the deployment of 12,000 personnel, the government was expected to declare Wednesday and Thursday national holidays for the third "jirga" since the 2001 US-led invasion.

The interior ministry said cordons had been set up around Kabul to prevent any infiltration by Taliban-led militants who have recently stepped up attacks.

"Helicopters from the Afghan police, army and ISAF are patrolling Kabul," ministry spokesman Zemarai Bashary told AFP, referring to Nato's International Security Assistance Force.

"Intelligence efforts have been boosted and a four-layer security cordon has been established," he said.

The National Consultative Peace Jirga aims to bring together leaders representing the country's complicated mix of ethnic, tribal, geographic and gender interests.

It is due to take place over three days from Wednesday in a tent in Kabul's southwestern suburbs, providing a forum for discussing what steps President Hamid Karzai should take towards brokering a peace deal with the Taliban.

The popular daily newspaper Eight AM said the cost of the jirga, at 160 million dollars, and the security measures broke down to 100,000 dollars and nine security personnel for each delegate.

Around 300 of the delegates are women, a Western diplomat said, after Karzai bowed to pressure from his international backers to increase female representation at the jirga from a mere 20-25.

Topping the agenda will be making peace with the Taliban, who have been fighting an insurgency since their five-year regime was toppled by a US-led invasion in late 2001.

"The jirga will define a framework and a mechanism of how to pursue peace and who they will talk to in order to reach peace," said the European Union's ambassador to Afghanistan, Vygaudas Usackas.

Published in the Express Tribune, June 1st, 2010.
COMMENTS
Comments are moderated and generally will be posted if they are on-topic and not abusive.
For more information, please see our Comments FAQ