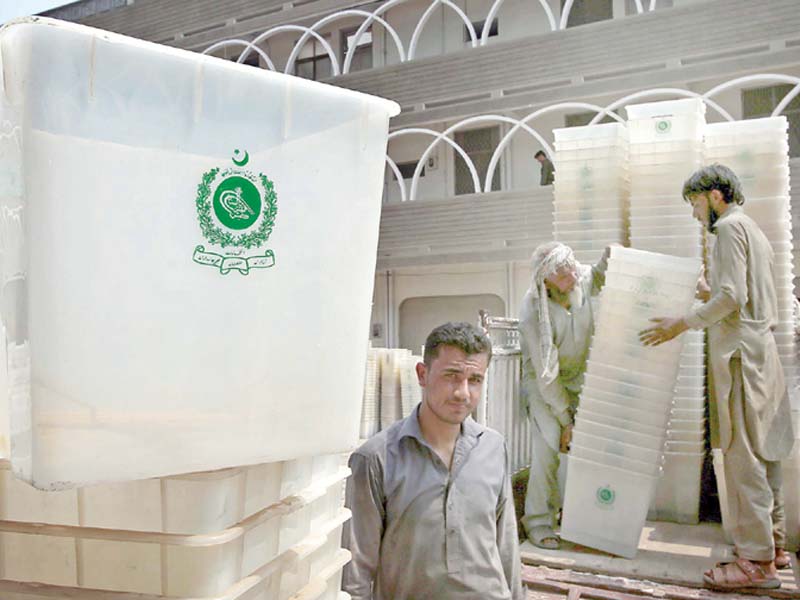 ---
PESHAWAR: As part of security measures for election day, the Peshawar district administration has imposed a ban on the movement of Afghan refugees from their camps along with a ban on aerial firing, use of tinted glasses, entry of unregistered vehicles in the city in his plan for election day preparations.

Sharing details of the preparations for the election day, Peshawar Deputy Commissioner Imran Hamid Sheikh told a news conference on Monday that they have prepared for any eventuality on the polling day, including arrangements for 1,000 shrouds.

"God forbid, we are prepared to an extent … any untoward incident," he said while addressing the news conference, adding that they are hopeful that no such incident would take place.

He said that as many as 1,217 polling stations have been set up in Peshawar, including 655 for men and 517 for women. Around 45 polling stations are combined.

He said that Pakistan Army and Police will guard polling stations while CCTV cameras have been installed inside the sensitive polling station.

The DC has also banned the entry of men in the women's polling stations on polling day. Unregistered voters have also been barred from entering the polling stations.

The use of cell phones within the jurisdiction of polling stations has also been banned as has been loitering on rooftops of polling stations and houses surrounding polling stations.

The district administration has also set up a model control room in the DC office for the election.

Meanwhile, the medical teaching institute Khyber Teaching Hospital (KTH) reviewed preparations for the elections.

A meeting in this regard was chaired by Medical Director Prof Dr Roohul Muqim and Hospital Director Dr Nek Dad Khan. The meeting was attended by principal managerial staff along with clinical unit and diagnostic in-charge.

Arrangements for Election Day were discussed and the concerned departments were asked to ensure availability of services, doctors, nurses, paramedics and supporting staff, medicines along with medical and surgical disposables, functioning equipment along with standby major and minor operation theatre.

It was decided that 150 beds are to be reserved for any emergency, while a further eight beds would be reserved in the intensive care units and four beds per unit.

An emergency control room has also been established in KTH. The availability of all the blood types especially rare groups is ensured.  Forensic department staff will be available for the autopsy of patients if required.

The chairman of the hospitals' board of governors directed the hospital management to ensure full emergency service during the election.

Published in The Express Tribune, July 24th, 2018.