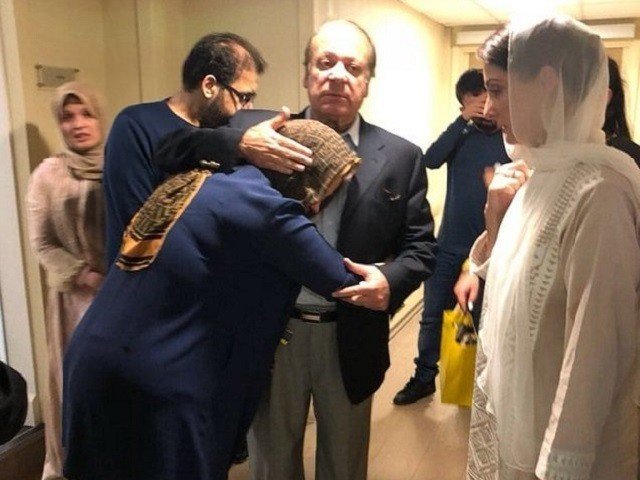 ---
RAWALPINDI/ LAHORE: Deposed prime minister Nawaz Sharif's health has taken a turn for the worse in Adiala jail, as he is suffering from chest pain and urinary issues along with other symptoms.

A team of doctors from Rawalpindi Institute of Cardiology, headed by its Chief Executive Major General (retd) Dr Azhar Mehmood Kayani, visited the prison and compiled a report after carrying out a detailed medical check-up. The report has now been sent to the Punjab Health secretary.

The findings in the report suggest that Sharif be shifted to a hospital immediately. Express News anchor Javed Chaudhry was the first to break the news.

Chaudhry revealed that Sharif had suddenly fallen ill. The party supremo has been behind bars for ten days now with his condition  having now worsened.

Safdar 'unwell', doctors to assess condition

Although his personal physician Dr Adnan had seen him twice in recent days, the jail administration called doctors from RIC to be sure of what had happened. The team spent about one-and-a-half hour inspecting his condition.

According to the medical board, his body's water levels are very low, which has made his heartbeat erratic now. The amount of urea in his blood has also become very high, which could even lead to kidney failure.

The board's findings suggested that Sharif be shifted to hospital immediately.

Sharif had complained about his health yesterday and the Punjab health secretary constituted a medical board headed by Maj Gen (retd) Dr Kayani.

Shifting of Sharif family to Sihala rest house postponed

The Punjab Prisons sources told Daily Express that they are waiting for the Punjab home department's orders about shifting Sharif to the hospital.

Maj Gen (retd) Dr Kayani said the former PM is suffering from heart and kidney problems and, therefore, the board has suggested that he be shifted to a hospital because many of the tests required cannot be performed in jail, nor do jails have the necessary medical facilities required to treat his condition. However, the decision is up to the Punjab government, he added.

Meanwhile, there are strong chances that Sharif will be shifted to RIC today.

Caretaker provincial ministers Shaukat Javed and Ahmed Waqas Riaz said the jail superintendent has been informed in writing about Sharif's health issues and the home department has formed a medical board which will perform another checkup today to decide on whether to shift him to a hospital. They confirmed that Sharif's medical tests suggested he had kidney issues. The caretaker government is in touch with jail authorities and Nawaz Sharif is getting better medical facilities, they added.

Sharif was awarded a 10-year jail term in the Avenfield reference, while his daughter Maryam Nawaz was sentenced to seven years in jail, and his son-in-law Captain (retd) Safdar was sentenced to one year imprisonment.
COMMENTS (12)
Comments are moderated and generally will be posted if they are on-topic and not abusive.
For more information, please see our Comments FAQ