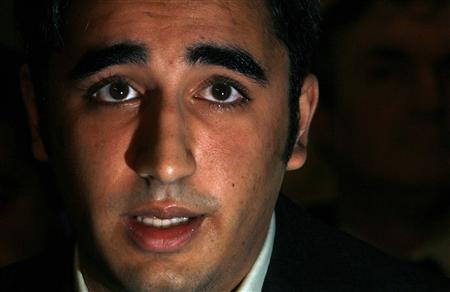 ---
HYDERABAD: Pakistan Peoples Party (PPP) Chairman Bilawal Bhutto Zardari has claimed that the Grand Democratic Alliance is prepared to trade provincial autonomy and water rights of Sindh to secure power in the province.

He cautioned the people at his maiden public meeting in Nangarparkar, in Tharparkar district, on Saturday that the GDA will compromise on all the democratic advancements achieved so far.

"This [forming of the GDA] is a conspiracy against all these accomplishments ... against the 18th amendment which restored Zulfiqar Ali Bhutto's 1973 constitution," he maintained.

"[But] we are democratic people and we will defend democracy and democratic achievements and we won't compromise on Bhutto's and Benazir Bhutto's ideology."

We oppose banned outfits contesting polls: Bilawal

Referring to GDA's leader Pir Pagara Sibghatullah Shah Rashdi's support for chief justice Mian Saqib Nisar's initiative for construction of two dams, Bilawal said the issue is very politically sensitive.

"They [GDA] are ready to comprise on everything so much so that even they have allowed judges to construct dams. The dams issue can't be resolved without consensus."

He blamed them for supporting earlier initiatives for construction of controversial Kalabagh dam and backtracking on the 1991 water accord.

He further claimed that the 'puppet alliance' wanted to roll back the Benazir Income Support Program (BISP).

Bilawal said the GDA and the powers which have allegedly created the coalition are aware that people of Sindh will vote the PPP.

"If they think they are popular among the people then what's the need of taking help from so many parties and from the other powers and making phone calls to my people?" he asked.

The PPP chairman also criticised candidacy of Pakistan Tehreek-e-Insaaf's Shah Mehmood Qureshi from two constituencies of the National Assembly in Tharparkar and Umerkot districts.

He described him as a 'pir' which has been added to the 'political tumour' of Sindh, a scornful reference to the GDA, to deceive the people about bringing political change.

"Sindh's people know these conspiracies and conspirators."

He also said development works carried out by former chief ministers Syed Qaim Ali Shah and Syed Murad Ali Shah are unprecedented in Sindh's history.

Bilawal, however, admitted that a lot more required development in the province could not be completed and assured the people that only his party has the potential to lead the development.

"Whatever remains to be done, I will do myself."

Praising advancement in the Thar coal project, he recalled that his mother dreamed of harnessing the coal energy in 1996 to provide electricity to the country and create employment.

PPP will not accept 'censored, puppet democracy', says Bilawal

He said he felt pleased that the coal project was initiated and completed during the PPP's government.

Requesting the people of Thar to vote for his party he reminded them that Pakistan's flag is flying in Thar due to his grandfather Bhutto.

"He not only won freedom for thousands of soldiers but also got back the land which was occupied by India [in 1971]."

Responding to criticism over the allocation of the party's tickets, he acknowledged that he is a human and he might have taken some right or wrong decisions.

"But whoever is contesting on the symbol of arrow is my candidate and you have to vote for them."

On the two National Assembly and five Sindh Assembly constituencies in Tharparkar, the PPP is facing off against candidates of the GDA and PTI.