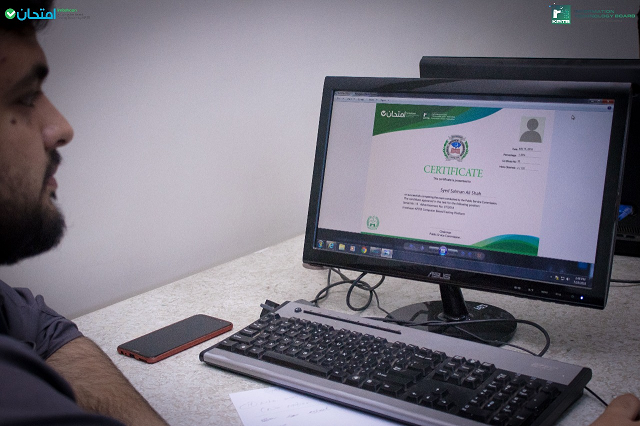 ---
PESHAWAR: Khyber Pakhtunkhwa Information Technology Board (KPITB) has developed a computer-based testing 'Imtehaan' software of multiple choice questions to automate the government's recruitment process of Khyber Pakhtunkhwa Public Service Commission (KPPSC) and to minimise human intervention.

KPITB has taken a number of steps towards automation of government processes. The KPITB's objective is to ensure effective governance using ICTs (Information and Communications Technology) for better public service delivery, higher transparency and accountability, and to instil a better trust relationship between the government and citizens.

To streamline recruiting process: Govt job hopefuls in K-P will now have to clear 'Imtehaan'




To implement their strategy for digital governance, KPITB developed 'Imtehaan'. The software will ensure efficiency, transparency and credibility in the recruitment process. To mark the readiness of the 'Imtehaan' software, computer-based mock tests were conducted simultaneously on July 19, 2018, across five districts of Khyber Pakhtunkhwa: Malakand, Mardan, Haripur, Kohat and Peshawar. The tests were conducted under the joint supervision of KPITB and KPPSC staff at each location. The test center at Peshawar was visited by secretary ST&IT in order to observe the computer based mock test.

One of the many features of the 'Imtehaan' software is the instant result feature that compiles and displays candidates' results immediately after the completion of the computer-based test. The instant result feature will speed up the exam checking process and will promote transparency. Questions and the multiple choice answers will be in random order for all candidates to eliminate cheating and ensure results are based on merit.




Punjab targets data sciences to improve governance

The software's highly encrypted 'Question Bank' is based on all the subjects required by KPPSC for various vacancies in  government departments. Furthermore, an exam center management feature will automate the exam center allocation process, speed up exam scheduling and make the recruitment process more efficient.

KPPSC is planning to conduct a pilot test using the software in the following weeks for government vacancies, enabling KPPSC to complete the recruitment process efficiently. KPITB will continue to provide technical support to government departments in ICT-related initiatives to promote digital governance in the province of Khyber Pakhtunkhwa.
COMMENTS (3)
Comments are moderated and generally will be posted if they are on-topic and not abusive.
For more information, please see our Comments FAQ