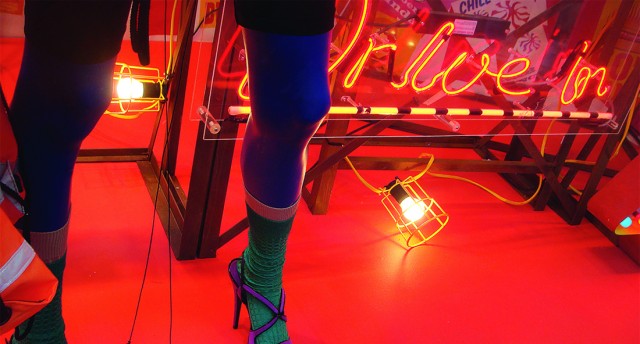 ---
LONDON: Nautical

The Breton fisherman's stripe is a must have for this season. Pair a striped shirt with dark denim jeans and a structured blazer, for a look that's classic yet playful. Feeling adventurous? Opt for a brightly coloured heel, belt, or a contrasting patterned colourful scarf, to add freshness to traditional Riviera chic. This nautical trend carries through to accessories; gold chain bangles wound through with navy ribbon, and charm bracelets littered with naval anchors, add a touch of nautical to any look. Some Londoners took to sporting this look with super shiny tights and a loose blazer at night.

Romance

Girls, whip out your credit card and get ready to swipe! This summer's romance trend promises to be the season's largest. Add femininity to your wardrobe by throwing in blush pink, delicate champagne beige, and off-white laces or crochet tops. River Island has some beautiful scarves that fit this trend.

Think of light fabrics, chiffon, crepe and Chantilly lace. Billowy chiffon blouses with lace detailing, and ruffled crepe separates, can be worn with nude and dove grey leather accessories. But be careful. Going overboard with this old-English pretty girl look could be a fashion disaster! To avoid looking frou frou, finish the look with distressed denim or black leather.

Ribbons,bows and pearls are this season's most popular embellishments and a key accessory trend. If you're shopping on a budget, pick a hairband with a bow or a chunky pearl bracelet. Topshop has an entire section devoted to this trend and is very wallet friendly, as is Accessorize.

Colour palette

When it comes to colour palettes, London fashion seems to have gone oxymoronic. While the vivaciously vibrant pop colours of the 1980s fashion movement still run strong, with startlingly bright oranges and reds being the new color of choice, there is an introduction of a new monochromatic palette.

The storefronts of the Goliath-sized Selfridges and Zara represent these two themes in stark contrast. Selfridges' window, bursting with fluorescent bold colours, plastic techno-mod objects and cobalt blue mannequins, is a futuristic interpretation of the 1980s revival.

Zara's storefront, positively sparse in its minimalism and simplicity works within the monochromatic palette of nudes, whites and pale neutrals - paired down, yet classy.

NEUTRAL TONES

Zara wins when it comes to predicting this season's trends. Soft flesh-tone hues and earthy neutrals are going to be on the hot list for summer and will carry through to fall. Less is definitely more when it comes to this look. Go for elegant chic, by pairing nudes with black, brown, navy and gray for a night out. Maybe even throw in something shiny, like a metallic scarf or belt, and Tom Ford's "cherry lush" lipstick for a touch of glamour.

For a daytime look, pair neutral separates with the new sherbet pastels of the season. These sorbet ice, candy floss and cupcake colours range from peach, sea-foam green, powder blue and banana and are deliciously fresh. Try and pick items with modern cuts or studded trims; you may need to add a little edge to this overly cute colour trend. Reis is a great place to shop this trend.

While you may feel an extreme case of buyers' remorse when you see your credit card bills, rest assured, you will get amazing quality for your money! Topshop, the "fast-fashion" beast, also carries this trend, and may be a better option for the budget conscious.

Creative

There are plenty of micro trends to choose from for the creative and less faint of heart. Boho-chic blouses, floral printed tunics, patterned tights, geometric heels, long loose blazers with structured shoulder pads, tribal inspired accessories, sequined shirts and metallic tops are all must-haves.

Published in the Express Tribune, June, 1st, 2010.