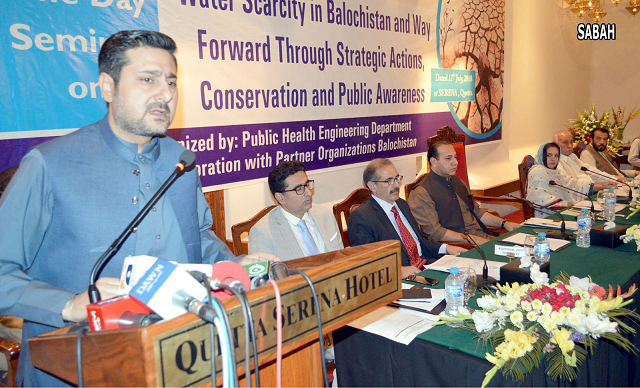 ---
QUETTA: Caretaker Balochistan Chief Minister Alauddin Marri has said that the province is facing the worst kind of water shortage as Sindh has stopped 70 per cent of "our water" supply.

"We are witnessing the worst water crisis. We need collective efforts to save water for our future generation," said the chief minister while addressing a seminar on 'Water scarcity in Balochistan and Way Forward through Strategic Action, Conservation and Public Awareness' organised by Public Health Engineering Department at a local hotel in Quetta on Tuesday.

Favouritism hindering water-supply projects in Balochistan

Marri said, "The water level in dams has been decreasing rapidly but we haven't planned any new dams to store rainwater. Unfortunately, we are among those nations that always plan after witnessing devastation."

Marri lamented the allocation of funds in the Public Sector Development Programme for setting up new tube wells instead of new dams.

He said, "We are busy in politics on the issue of dams, while our country, particularly our province, has been facing the worst water crisis. We still have time to build new dams as after a couple of years new dams won't be beneficial."

Most parts of Quetta without water for five months

Expressing resentment over the misuse of drinking water in Quetta, the interim CM said, "We are that nation where drinking water is used for washing vehicles while people of many parts of the province are dying for a single drop of drinking water."

Talking on the water supply for Quetta through the Pat Feeder Canal, Marri said, "There are many complexities in water supply from the Pat Feeder Canal as it is contaminated and Sindh has stopped 70% of our water supply."

On artificial rain in Balochistan, he said, "In the modern world people have been meeting their water needs through artificial rain. The previous government had signed an agreement with a Russian company to shower artificial rain in drought-hit areas of the province, but unfortunately the file went into the hands of the bureaucrats."
It is pertinent to mention that the Balochistan government has not cleared its previous dues for the supply of water from Sindh.
COMMENTS
Comments are moderated and generally will be posted if they are on-topic and not abusive.
For more information, please see our Comments FAQ