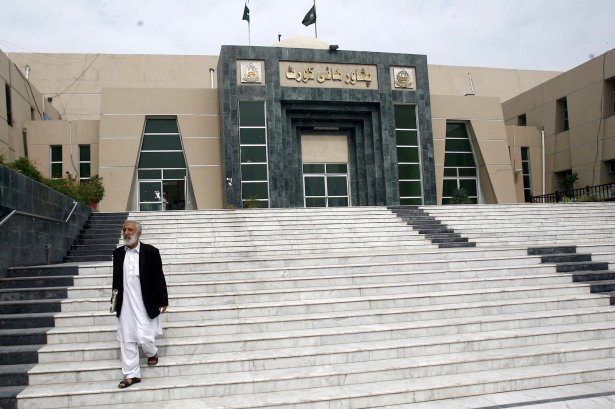 ---
PESHAWAR: The eligibility of a PTI provincial assembly candidate has been challenged for allegedly hiding the fact that he was a dual national.

Subsequently, notices were issued to the candidate.

Jamiat Ulema Islam-Fazl (JUI-F) leader and Muttahida Majlis-e-Amal (MMA) candidate from the provincial assembly constituency PK-73 Peshawar-VIII Maulana Amanullah Haqqani had filed a petition in the Peshawar High Court (PHC), through senior lawyer Isa Khan, contending that Pakistan Tehreek-e-Insaf (PTI) candidate for the constituency Taimur Saleem Khan is a dual national, a fact which was not disclosed in his nomination papers.

A two-judge bench of the PHC, comprising  Chief Justice Waqar Ahmad Seth and Justice Musarat Hilali, heard Haqqani's arguments on Tuesday.

"He has been working in Dubai for a long time but he has not mentioned anything about his Aqama (UAE work permit) in his nomination papers," Isa said, noting that concealing facts on nomination papers was grounds for his disqualification.

He added since Taimur is a foreign national, hence he is not eligible to contest the elections under the Constitution of the country. To become eligible, he would have to relinquish his foreign nationality first.

The lawyer for the petitioner further argued that Taimur disclosed an income of Rs80 million but had failed to pay any tax for the fiscal year 2017.

"Since he has concealed facts, he is neither Sadiq nor Amin under the Article 62 of the Constitution," claimed the petitioner's lawyer.

The court, after hearing the arguments, directed Taimur to appear before the court while the Election Commission of Pakistan (ECP) was directed to submit a reply in the case at the next hearing of the case.

The court adjourned the case until the eve of the general elections, July 24.

Taimur gained prominence late last month after PTI workers from the constituency rose up in protest after the party awarded him a ticket for PK-73. Party workers termed him a 'parachute candidate' since he did not hail from the area.

Disgruntled workers had challenged his candidacy before the election tribunal but withdrew the challenge after the creases were ironed out between them.

Published in The Express Tribune, July 18th, 2018.
COMMENTS
Comments are moderated and generally will be posted if they are on-topic and not abusive.
For more information, please see our Comments FAQ