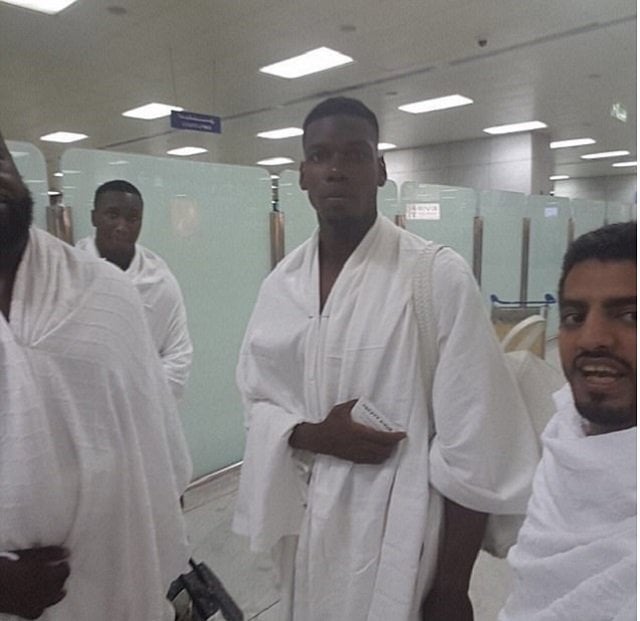 ---
KARACHI: As Les Bleus clinched their second World Cup title after a thrilling final win over Croatia, social media was quick to underscore that the team had seven Muslim players in it and how the country must apply its on-field victories off the field as well.

Adil Rami, Djibril Sidibé, Benjamin Mendy, Paul Pogba , N'Golo Kanté, Nabil Fekir and Ousmane Dembélé all practice the faith.

The country which is often in the spotlight for its Islamophobic social policies won the ultimate footballing prize with a team that is one-third Muslim.


Paul Pogba wishes Eid Mubarak to his social media followers https://t.co/P3R1HKRgJJ pic.twitter.com/ZN3ebZ6bnK

— Mirror Football (@MirrorFootball) September 12, 2016


Twitterati called on France to put an end to its "hypocrisy" and acknowledge the foundational and positive role Muslims play in developing its society.

In pictures: French take to the streets in celebration after World Cup victory

"Africans and Muslims delivered you a second World Cup, now deliver them justice," American author Khaled Beydoun wrote.




"With France passing all these laws against Islamic practices, let's not forget it's these same Muslims players who helped win #WorldCup2018," one Twitter user wrote.

https://twitter.com/atoma019/status/1018553907046469632

Some called on France to recognise the victory as a much-needed wake-up call for the country to adopt policies upholding the rights and dignity of migrants and Muslims.

https://twitter.com/KhaledBeydoun/status/1018540593897705473


78% of the French football team are immigrants, and 50% are Muslim.

Muslim immigrants rebuilt France after the Second World War, and they've helped make France the #1 team in the world.

Diversity is strength. Racism is weakness.

— CJ Werleman (@cjwerleman) July 15, 2018
I hope France never says an unkind word about immigrants ever again

— fatima bhutto (@fbhutto) July 15, 2018



https://twitter.com/KhaledBeydoun/status/1018776149466501120


All the best to #LesBleus and our French brothers for the #WorldCupFinal2018 pic.twitter.com/Lc27rXkYae

— Muslim Footballers (@TheAMF) July 15, 2018


https://twitter.com/KhaledBeydoun/status/1018713623408140306


Sitting in wondering what would France be like if the French fought as hard against anti-African racism and Islamaphobia as it is currently celebrating winning the #WorldCup delivered by a team with an overwhelming majority of Africans and Muslims.

— Bishop Talbert Swan (@TalbertSwan) July 15, 2018


https://twitter.com/MuslimIQ/status/1018666283141943296


Dear French government & people

Muslims are not all terrorists✋

Muslims are essential part of your national team..
Muslims brought you joy & laugh ..
Muslims brought you the World Cup

.
.#FRA #WorldCupFinal pic.twitter.com/3uUo1k0RPT

— د. عبدالرحمن بخاري (@DrAAB1987) July 15, 2018
Zidane and Pogba - two Muslims that led France to their two #WorldCup titles. In 1998 and 2018.

Their faces illuminated on the Arc de Triomphe, a symbol of the nation.

Islam CAN coexist with French identity.

Don't just celebrate Muslims when they deliver #WorldCupFinal glory. pic.twitter.com/UmHbzebmUb

— Quran & Hadith (@QuranAndHadithh) July 15, 2018


https://twitter.com/acjoshi/status/1018860465131270144


It's not just about African angle though - Islamophobia is rife in France & this goes beyond anti-black racism. The fact that a proudly Muslim player scored Sunday matters a great deal to a lot of French Muslims who I know who face massive discrimination that goes beyond race.

— Mehdi Hasan (@mehdirhasan) July 16, 2018
COMMENTS (4)
Comments are moderated and generally will be posted if they are on-topic and not abusive.
For more information, please see our Comments FAQ