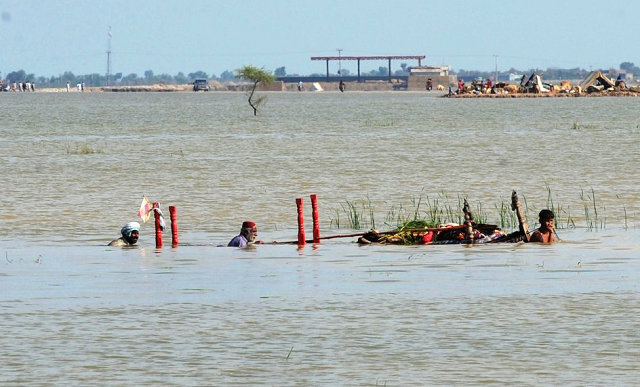 ---
QUETTA: Due to lack of information about natural disasters people face a lot of losses, Pishin assistant commissioner says.

"Awareness level about natural disasters should be raised among society," Mumtaz Khaitran said while addressing participants of a workshop arranged with the collaboration of USAID and 'Legends Society' at Government Girls Elementary College in Pishin on Friday.
A huge number of students, teachers and parents among others were also present. Over 400 students, including girls and boys, of Pishin participated in the workshop.

Natural disasters 'have inflicted $28.29b losses'

Khaitran said, "It is a great initiative to conduct informative sessions for students in rural areas of Balochistan. Natural disasters do not inform before occurring. Being a nation, it is our responsibility to work for humanity. Such skillful workshops will be helpful in decreasing the losses during natural disasters."

Pishin District Education Officer Kaleemullah Shah said, "Lack of proper facilities and planning results in major losses during natural disasters."

He said, "It is a good step to provide students such a fruitful training programme about facing natural disasters. It will help students gear up for any future incident."

Earthquake relief: 10 Army helicopters, 1200 troops involved in rescue operation

He thanked the non-governmental organisation USAID and Legends Society for the initiative.

"Our children are not backward. They just need advocacy," said Sidra Bilal Khan, a teacher.

"We have trained them to face different kinds of disasters. Children will face any disaster with ease after such a good workshop," she added.

Participants of the training workshop expressed their keen interest during different sessions.

Floods 2012: Millions rendered homeless in Balochistan, Sindh

Students said, "It is a great opportunity for us to be a part of such a nice programme. We have learnt a lot of techniques about keeping ourselves safe during an emergency situation. We will convey this message and learning to our class fellows as well as family members and neighbours."

At the end of the programme, AC Khaitran distributed shields and certificates among students.

USAID and Legends Society distributed first aid box, tool kit and other necessary equipment among the participants.