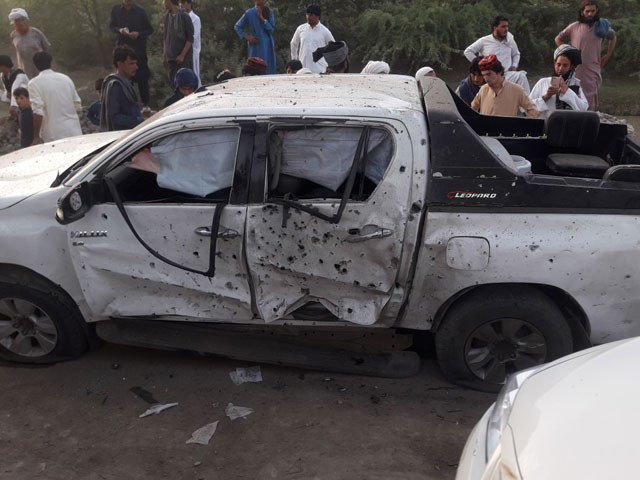 ---
ISLAMABAD: The attempt on Akram Durrani's life came in quick succession of the National Counter Terrorism Authority's (NACTA) warning about the existence of heightened threats against six politicians, including Durrani: But the Mastung bombing blurred the lines between the threatened and the dead.

Three successive terrorist attacks within a week precluded the possibility of the timely holding of the general election. These terrorist incidents also cast doubts about the overall domestic security situation.

Just three days after the murder of ANP's Haroon Bilour, two massive attacks on Friday shattered the apparent peace country, one occurring in Mastung, killing Siraj Raeesani and several others while another one was carried out on the convoy of JUI-F's Durrani in KP.

BAP leader Siraj Raisani among 128 martyred in Mastung suicide blast claimed by Da'ish

NACTA officials had recently informed the Senate's panel on interior about six politicians facing security threats.

They said that the lives of PTI chief Imran Khan, ANPs head Afsandyar Wali, chairman of the Qaumi Watan Party (QWP) Aftab Ahmad Khan Sherpao and some PML-N leaders were in danger.

Other politicians, who faced security similar security threats included former CM KP and JUI-F's leader Akram Durrani, another ANPs leader Ameer Haider Hoti and Talha Saeed.

On Friday, Senator Rehman Malik the report compiled by the assessment committee formed on the orders of the Supreme Court should be made public.

"Politicians facing potential life threats must be informed about it. There appears to be no halt in terrorist activities and the government must tighten the security (of the politicians)," he said in a statement.

He said that anti-state elements such as Taliban, Da'ish and Al Qaeda wanted to destabilise the country.

Meanwhile, an expert on security issues, Brig (retd) Said Nazeer Mohmand said that too many fronts had been opened and the political atmosphere was highly charged providing room for such activities. He said that in such a scenario, focus diverts and gives room for untoward happening.

According to him, proactive intelligence was critical and efforts should be made to neutralize the threats after issuing warnings.

He said the Peshawar attack in which Haroon Bilour was killed and the Mastung incident bore a similar signature: In both cases, attackers were waiting for the victims' arrival.

The attack on the rally of Durrani differed from this modus operandi, he added.

He asserted that the signature of these incidents also showed that perpetrators had not come from across the border.

He said the recent wave of terrorism ahead of the general election was intensifying fears that there was a possibility of a delay in holding the general election.

"There is a possibility that other major terrorist attacks may occur and … If that happens, it would dim the possibility of holding election on time," he said.

Criticising NACTA's move to publicise these threats, he said that instead of sharing them with the media, it would have been better if those individuals concerned had been warned.

He said that publicizing such threats had its own negative impact: People shunned mass gatherings participated by politicians facing security threats.

Four die as blast targets Durrani

According to Brig (retd) Mohmand, the caretaker government appeared to be inexperienced in handling the emerging situation, especially after the fresh wave of terrorism.

He said crackdowns were mounted in the Punjab ahead of the former prime minister Nawaz Sharif's return to Pakistan and authorities who conducted press conferences in this regard hardly seemed to be aware about the issue at hand.

Acknowledging that providing thorough and total security to all stakeholders was not possible, he said that capacity-related issues precluded this possibility.

He urged all political parties to take measures to thwart security threats, protect the masses and their leaders.