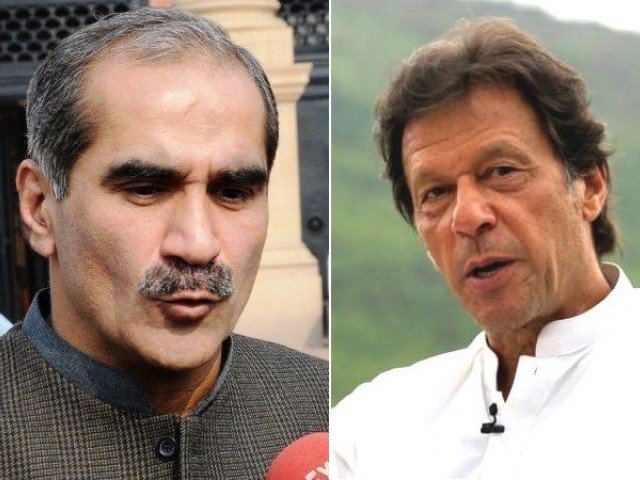 ---
LAHORE: Pakistan Tehreek-e-Insaf (PTI) Chairman Imran Khan's decision to contest elections from NA-131 will give his constituency rival Khawaja Saad Rafique of Pakistan Muslim League-Nawaz some serious cause for concern. The PTI leader could sway a considerable amount of the vote in his direction.

Opponents ridicule PML-N's claim of giving Sharifs rousing welcome

A tough contest is expected between the archrival political parties.  PTI is trying to garner the support of the middleclass with slogans of "change" and a "new Pakistan". On the other hand, political observers believe PML-is gathering the support of the "elite" by holding corner meetings in posh areas.

Voters for NA-131 are also divided over the disqualification of former Prime Minister Nawaz Sharif and his sentencing to 10 years by an accountability court. Nawaz's daughter Maryam Nawaz and son-in-law Captain Safdar were also sentenced to seven years and one year, respectively. While some voters say the court decision and prior disqualification had exposed the true face of Nawaz Sharif's family, others believe PML-N is being targeted.

Some voters of the constituency stress that the charges of corruption have never been established against members of the Nawaz Sharif family. These are the people most likely to cast a 'sympathy' ballot in favour of the PML-N, political pundits claim.

Malik Mukhtar, a voter from the constituency, says he will not leave Nawaz Sharif in this time of need. He asserts that his vote will go to PML-N on Election Day which is scheduled for July 25. On the other hand, several others from NA-131, when asked, say 2018 is going to be the year for change of 'tabdeeIi' and give credit to Imran Khan for bringing Nawaz's family to book.

PML-N, PTI senators spat over 'donkey' remark

Haji Aslam outlines that the country's top court has revealed the true face of PML-N and he will vote for the "new Pakistan" promised by Imran Khan's PTI.  Political pundits, who have been observing this constituency, are pointing out "trump cards" which can be used by the two rival parties against each other.

They say PTI has played its hand by fielding Imran Khan against Khawaja Saad Rafique in a constituency which is among the four where the result was challenged by the party in 2013 and for which various protests and sit-ins were held.

When contacted, PTI's Aleem Khan, who is contesting for an MPA seat from the same constituency, says polls on July 25 will decide who are the winners and losers. He seems optimistic and asserts that if the elections are indeed free and fair, his party will take the general elections of 2018. "It is the wish of youth to field Imran Khan against Khawaja Saad Rafique in this constituency." He says the response had been overwhelming when people gather at assembly points during PTI's election campaign in the constituency. Imran Khan will deliver his first address in the DHA area of the constituency on July 12.

Dozens of calls were made to contact PML-N leader Khawaja Saad Rafique to discuss his chances, but he was not available to comment on the situation due to prior engagements and corner meetings.

PTI, observers say, can put a major dent in PML-N's campaign for the constituency by nominating Khan to take on the fight. They add that Khan's candidature from this seat also serves as a uniting factor as there were a lot of initial differences over the final contestant from PTI's side for this seat.  Pundits have predicted that PTI has chosen the one constituency where the PTI leadership can put up a fight to the traditional dominance of PML-N in Punjab.

PTI leaders remind PML-N about the 2014 sit in clash

The political observers point out there is little doubt that outgoing chief minister Shehbaz Sharif did a lot of work for Punjab. However, as far as Khawaja Saad Rafique is concerned, the voters of the constituency said he has not been visiting the area and are therefore disappointed by his performance. Several locals are complaining about lack of gas and clean water. They also point towards the flawed sewerage system and other such problems in their respective neighbourhoods. Finally, the pundits predict a tough fight, but add that PTI may have a slight edge over PML-N on this occasion.

Published in The Express Tribune, July 14th, 2018.
COMMENTS
Comments are moderated and generally will be posted if they are on-topic and not abusive.
For more information, please see our Comments FAQ