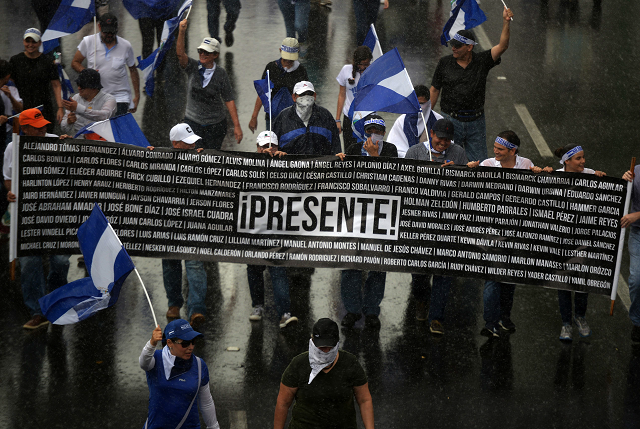 ---
MANAGUA: Four police officers and a protester died on Thursday in Nicaragua, the latest in around 270 fatalities in months of demonstrations against President Daniel Ortega - a one-time revolutionary hero now derided as a leftist despot.

The bloodshed kicked off three days of nationwide protests against the government of the poor Central American country, including a general strike on Friday and a car caravan through flashpoint areas of the capital Managua on Saturday.

At least three dead, including police officer, in Nicaragua protests

The fatalities occurred in the southeast town of Morrito as marching protesters, some of them armed, came under attack from police and paramilitaries and responded with gunfire, said Francisca Ramirez, head of an opposition grouping called the Civic Alliance for Justice and Democracy.

Police confirmed the death toll but blamed the violence on "terrorist groups" that pretended to be carrying out a peaceful march and opened fire on a police station.

Protesters also abducted nine police officers and attacked the Morrito town hall, the police said in a statement.

Morrito is a town of 6,000 that is home to many farmers who own guns to protect their land.

In Managua, thousands of people waving blue and white Nicaraguan flags marched Thursday along downtown avenues in a violence-free procession. Referring to Ortega, many chanted, "He must go!"

Carolina Aguilar, 52, accused the Ortega government of killing protesters with impunity.

"We cannot live with a murderer, with a scorpion that kills us day after day. I would give my life for this end," she told AFP.

The protests erupted in Nicaragua on April 18, initially against now-scrapped pension reform. But they have since boiled over into demands for Ortega, the Sandinista guerrilla leader who led a revolt that ousted US-backed dictator Anastasio Somoza in 1979, to step down.

Ortega ruled until 1990, and was then re-elected in 2007. He is now serving his third straight term. His detractors accuse him and his wife, Vice President Rosario Murillo, of running a brutal dictatorship.

In Washington, the Organization of American States convened a session Friday to discuss the crisis in Nicaragua.

New Nicaragua violence kills six, including American

And a commission of the US House of Representatives unanimously passed a bipartisan resolution accusing the Ortega government of repression.

"The continued violence and oppression of the Ortega regime is reprehensible," said Paul Cook, chairman of the House Foreign Affairs western hemisphere subcommittee.

Responding to the three-day protest movement, Ortega's government has announced a counter-measure for Friday: a procession from Managua to Masaya, 30 kilometers (20 miles) to the south, in remembrance of the Sandinista revolution.

A lot has changed in Nicaragua since then.

Once a left-wing guerrilla leader who took over after Somoza was ousted by the Sandinista National Liberation Front, Ortega has himself become the focus of public ire.

During his stint in power from 1979 to 1990, Ortega's government had to fight US-backed counter-revolutionaries known as the Contra.

Ortega's annual procession to Masaya commemorates the July 19 popular uprising that ended 43 years of the Somoza family dynasty.

Masaya is now, as it was then, a bastion of opposition resistance to an oppressive regime - only Ortega, 72, is no longer a friend but the enemy.

News of Ortega's procession has struck fear among the indigenous community of Monimbo, a southern suburb of Masaya, where citizens have built barricades of bricks to keep out government forces.

Last week in two nearby towns at least 14 people were killed after police and pro-government paramilitaries moved in to clear barricades.

"No one's coming in, unless they kill every last one of us," a man, guarding a Monimbo barricade with his face covered by a cap and olive green shirt, told AFP.

Nicaraguans fear return to civil war past

Prior to Thursday's five new fatalities, the death toll from the three months of protests stood at at 264, according to the Inter-American Commission on Human Rights.

The influential Catholic Church has been mediating between the government and the Civic Alliance, but has itself come under fire from pro-government supporters.

On Monday, masked pro-Ortega supporters invaded a Catholic basilica in the town of Diriamba and harassed bishops.

The Church had proposed advancing elections scheduled for 2021 to 2019 to help ease tensions, but Ortega rejected that idea.
COMMENTS
Comments are moderated and generally will be posted if they are on-topic and not abusive.
For more information, please see our Comments FAQ