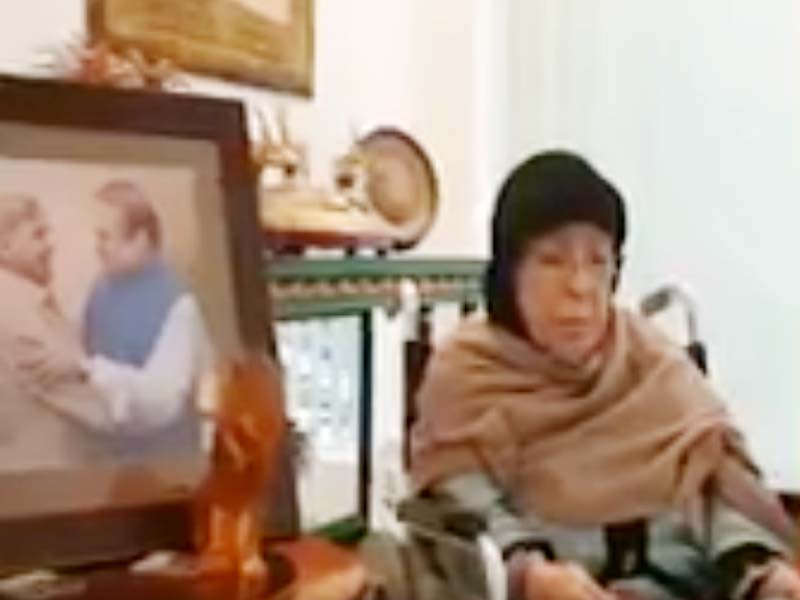 ---
Begum Shamim Akhter, mother of deposed prime minister Nawaz Sharif, has announced she will go behind bars too if her 'innocent' son and granddaughter are sent to jail, a day before the duo is set to return to the country.

"Pakistan's son and my son, is returning to the country tomorrow," Begum Shamim Akhter read out in a video message posted on the official Twitter account of Pakistan Muslim League-Nawaz (PML-N).


میرے بچوں کو ووٹ کو عزت دو کا نعرہ لگانے کی سزا دی جارہی ہے. اگر انہیں جیل بھیجا گیاتو میں بھی انکے ساتھ جاوں گی pic.twitter.com/VnjwMUE0Z4

— PML(N) (@pmln_org) July 12, 2018


"An unjustified verdict was announced against my sons and [Captain retd] Safdar and I will not let them go to jail," Begum Akhter maintained.

Shehbaz alleges double standards before Nawaz's return

"And if they are sent to jail, I will be going behind bars with them," she announced.

The former prime minister's mother said she had complete faith that the three were innocent and God will protect them.

"The tyrants should fear God and his wrath," she warned. Begum Akhter questioned why are the accused being punished when the court had itself said that the charges of corruption hadn't been proven.

The deposed PM's mother concluded her talk saying, "the [accused] are being punished for raising the slogan of 'honour the votes', and for being loyal to the country."
COMMENTS
Comments are moderated and generally will be posted if they are on-topic and not abusive.
For more information, please see our Comments FAQ