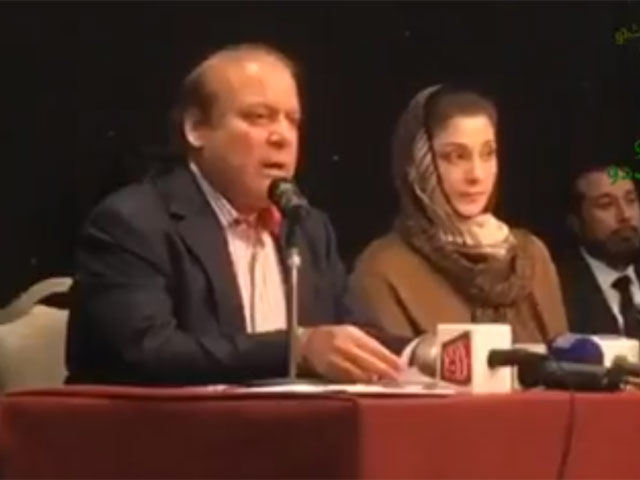 ---
Deposed prime minister Nawaz Sharif on Wednesday said that he will not abandon the nation even if jailed or taken to the gallows.

Nawaz and daughter Maryam Nawaz will return home on Friday [July 13] to surrender to the National Accountability Bureau (NAB) following the Avenfield verdict. Addressing the Pakistani community in London accompanied by his daughter, the PML-N supremo said, "I am returning to my people because my country is in trouble."


PMLN Quaid Muhammad Nawaz Sharif addressing Pakistani Community in London https://t.co/LcTvTxoeom

— PMLN (@pmln_org) July 11, 2018




Those spreading propaganda that I've sought political asylum should know that I am coming back, he confidently said. The deposed premier further said that he intends to "honour the votes" even if he is going behind bars. Nawaz further said that his decision to return came despite the deteriorating health of wife Begum Kulsoom Nawaz.

"I owe it to the nation that elected me as prime minister three times."

Voters will make their decision soon to change Pakistan's fate: Maryam Nawaz

"We will restore the supremacy of the people," Nawaz said, reiterating that there was no shred of evidence of corruption against him or his family. "The Sharif family has been facing accountability for three generations," he added. There are two standards of justice; one for him and one for the 'beloved', Nawaz said, in an veiled jibe at Pakistan Tehreek-e-Insaf Chief Imran Khan.

The former PM then went on to say that he respects each institution of the country and carries momentous love for martyrs and troops of the armed forces. "Strength of the institutions is tantamount to strength of the country," he stressed.

On July 6, in a verdict which will echo across the political landscape of the country for decades, the accountability court hearing the Avenfield reference sentenced Nawaz to 10-years imprisonment and Maryam to seven years.
COMMENTS (9)
Comments are moderated and generally will be posted if they are on-topic and not abusive.
For more information, please see our Comments FAQ