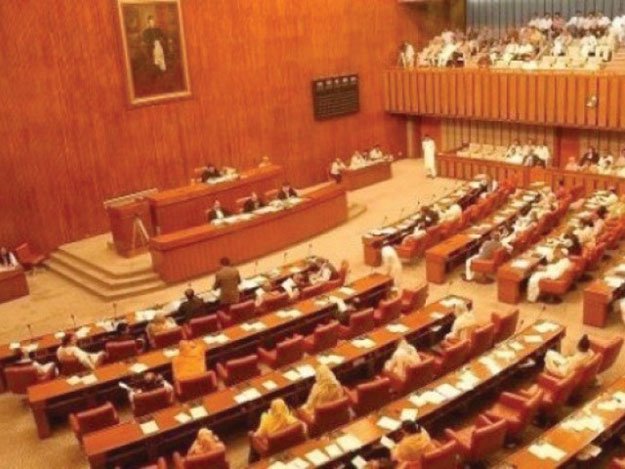 ---
ISLAMABAD : Senators belonging to different political parties on Monday questioned the neutrality of caretaker government in the prevalent political situation where certain contestants running in this month's polls are being arrested and cases against them are being instituted.

On the inaugural day of the new session, lawmakers said that caretaker government remained silent when politicians were being targeted.

Senator Raja Zafarul Haq, who is chairman of the former ruling party PML-N and leader of the house in Senate, said the recent verdict against Nawaz Sharif shows that this month's elections are being engineered.

No one should have doubts about elections: CJP

"Accountability court verdict, arrests, and FIRs against politicians, reflect that the country is heading towards an engineered general election", he remarked.

He proposed that the Senate session should continue till the elections so that it can take notice of the situation.

Senator Sherry Rehman, the opposition leader in Senate claimed that hurdles are being created to stop certain politicians from electioneering.

She said the elections will become controversial if this trend continues. She mentioned incidents where her party's chairman Bilawal was stopped from addressing election rallies.

On the other hand, religious parties are being encouraged to campaign irrespective of their past. Many candidates running from such parties remained in the fourth schedule, she said, adding that this shows that mainstream parties are being sidelined.

Senator Dr Musaddiq Malik said a large number of politicians who have quit PML-N have been allocated jeep as election symbol.

He gave examples of Chaudhry Nisar Ali Khan and many others. He said certain forces thought Nawaz Sharif and his daughter Maryam Nawaz will not be returning but they have announced their return on Friday.

'Delay in elections against national interest'

Senator Shibli Faraz of Pakistan Tehreek-e-Insaf (PTI) said there is no need to take pride in if Nawaz and Maryam are returning. He said Nawaz had been coming to power with the help of same forces against whom he is speaking now.

Senator Sadia Abbasi of the PML-N said it would be wrong to say that Nawaz and Maryum are criminals. She said they have all the right to contest their cases in the higher courts.

Senator Usman Kakar of Mehmood Khan Achakzai's Pashtunkhwa Milli Awami Party (PKMAP) accused the establishment of backing PTI candidates in the elections.