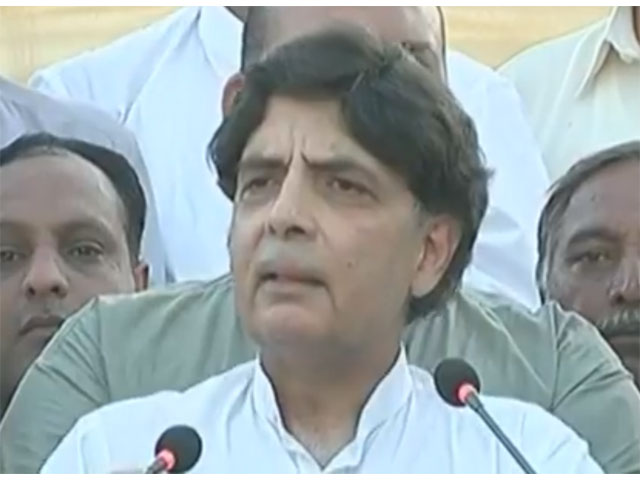 ---
[fbvideo link="https://www.facebook.com/etribune/videos/2405286349488377/"][/fbvideo]

Former Interior Minister Chaudhry Nisar Ali Khan said on Friday that it will be decided on the day of election if the Pakistan Muslim League-Nawaz (PML-N) or Pakistan Tehreek-e-Insaf (PTI) are strong or the masses.

"[PTI chief] Imran Khan invited me to join his party and that I can be awarded as many [election] tickets I might want."

However, Nisar added, I decided that this time, I will not accept ticket from PML-N, PTI or Pakistan Peoples Party (PPP) but from the masses only.

PML-N fields candidates against Nisar on four constituencies

The former interior minister announced last month that he will take part in elections as an independent candidate. According to him, the PML-N had awarded tickets to 'political orphans', so he would contest elections as an independent candidate.

"The entire Pakistan will witness on July 25 whether these parties are strong or the masses," he remarked.

"Whenever I am elected, I am elected to serve you and not to fill my pockets," Nisar said while addressing his supporters in the Rawalpindi on Friday evening.

"I will not rest until development work is 100 per cent completed in this area of Chak Jalal Din," the ex interior minister said and pledged to resolve the issues of the area, including that of water provision.
COMMENTS (2)
Comments are moderated and generally will be posted if they are on-topic and not abusive.
For more information, please see our Comments FAQ