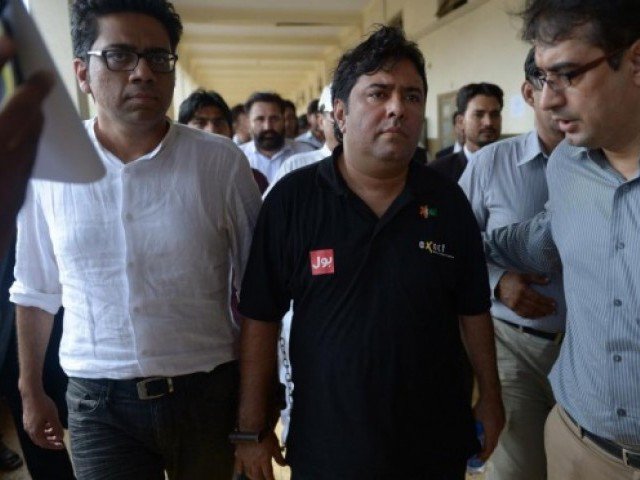 ---
ISLAMABAD: A district and session court in Islamabad has sentenced Axact Chief Executive Officer (CEO) Shoaib Shaikh and 22 others to seven years in prison in a fake degree case. Three other accused, including Ayesha Shoaib Shaikh, were acquitted by the court.

District and Sessions Judge Chaudhry Mumtaz Hussain announced the judgment on Thursday.

Sheikh and others were booked by the FIA Cyber Crime wing Islamabad on June 7, 2015, for preparing and selling fake degrees online. The scam had surfaced after The New York Times published a report claiming the company sold fake diplomas and degrees online through hundreds of fictitious schools and universities.

Hearing adjourned due to Shoaib Shaikh's absence

The FIA launched an inquiry after the publication of the expose, and raided the Axact office located in DHA Islamabad on May 19, 2015 and seized electronic equipment, documents, computer, educational documents and other articles and an FIR was registered against 26 suspects, who were arrested. Fake degrees were also recovered during the investigation.

They were charged with fraud, personation, forgery, money laundering as well as under the Electronic Transactions Ordinance.

On March 11, 2016, then-Additional District and Sessions Judge Pervaizul Qadir Memon framed the charge. The suspects pleaded not guilty and the trial started.

The prosecution produced a total of 23 witnesses as well as documentary evidence to prove the charge while Raja Rizwan Abbasi, the defence counsel, maintained that no illegality had been committed and all the accused were innocent and claimed his clients were victims of a conspiracy.

Abbasi argued that Sheikh's wife Ayesha Shoaib was a silent partner with a small shareholding in the company and had no role in its operations. Similarly, he pointed out that Col (retd) Jameel Ahmed and Col retd Muhammad Younas, who were also charged, had no role with the allegations as they only looked after security and administration of the company and had no nexus with the commission of the offence.

After hearing both the parties, the court convicted 23 of the accused and acquitted Sheikh's wife as well as the two retired colonels. Charges of money-laundering under the Electronic Transactions Ordinance could not be proved and all the accused were acquitted of these charges.

SHC warns Axact chief over no-show

The court found 23 accused, including Shoaib Sheikh, guilty on four counts. Under Section 419 of the PPC, they have been awarded three years rigorous imprisonment and a fine of Rs100,000 each, and in case of defaulting on payment of the fine, an additional six months imprisonment. All the convicts have been awarded the same sentence under Section 420 of the PPC.

Further, they have been awarded seven years rigorous imprisonment and a fine of Rs500,000 under Section 468 of PPC, and the same sentence under Section 471 of PPC. All the sentences shall run concurrently, meaning rigorous imprisonment of seven years for each of the 23 convicts.

The convicts include Shoaib Ahmed Sheikh, Vaqas Attique, Qasim Bin Masood, Haider Farooq, Sajjad Haider, Rizwan Shah, Afaq Ahmed, Ibadat Zaki, Izhar Tanveer, Syed Shoaib Abbas, Ayub Qamar, Hasnain Rehman, Nigel Brin Robello, Haseeb Ehsan, Kaleem Ashraf, Umar Gul, Daniel Vincent, Richard Adnan, Umair Farooq, Asim Bashir, Muhammad Amjad, Zeeshan Anwar, and Zeeshan Ahmed.