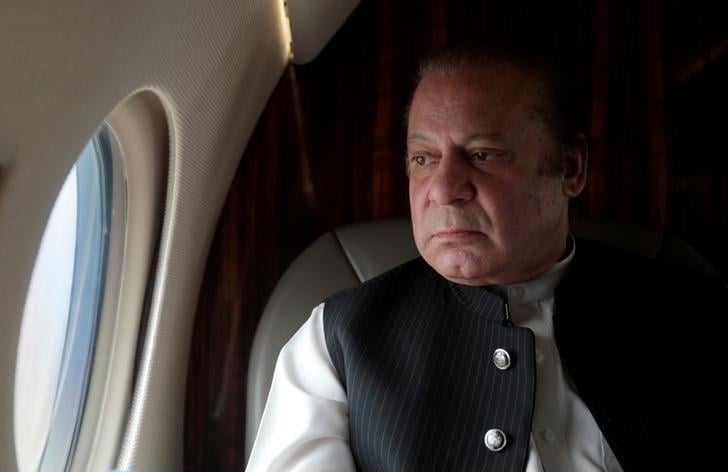 ---
ISLAMABAD: Ahead of an all-important verdict to be announced by an accountability court tomorrow (Friday) involving his and his family's fate, the former prime minister Nawaz Sharif has demanded that the judgement's announcement be deferred until his return to country.

"I want to hear this judgement myself being present in the court and I would like to hear it from the judge," Nawaz told the reporters in London on Wednesday, a day after the court concluded its 10-month long proceedings of the Avenfield apartments' case and reserved judgement till Friday.

The Avenfield reference was one of the four corruption cases, the National Accountability Bureau (NAB) filed in the accountability court in line with the apex court's July 28, 2017 verdict in Panama Papers case. The Supreme Court's landmark verdict had also resulted in lifetime disqualification of Nawaz Sharif.

"Pakistan's judicial system has a history. The judgements of respective cases are kept reserved for months. So in this particular case if the judgement is delayed for a few days as my wife is battling for life, this would be no big deal. No law would be violated," Sharif added.

The former PM reiterated resolve to land in Pakistan regardless of the outcome of the court's decision. "Whether this decision is in my favour or against, I shall land in Pakistan immediately once my wife gets better. I came here for only three days. I did not know we would have to spend three weeks here."

Court to announce Avenfield reference verdict on July 6

Apparently talking jibe at General Pervez Musharraf who for the last two years has avoided his treason trial by a special court, Sharif said he is not a dictator or a martial law administrator to run away.

"I have attended more than 100 proceedings of the reference pending against me, along with my daughter Maryam. Who, in this country's history has appeared before the courts in similar cases more than 100 times? Is there a single precedent?"

By deciding not to return to Pakistan till the health condition of his wife improves, Nawaz Sharif has sprung a surprise on the Pakistan Muslim League-Nawaz (PML-N) senior leaders who fear that absence of the party supremo from Pakistan will dent the party's campaign for July 25 polls.

Discussions with some senior party leaders suggest that the PML-N leadership was expecting that the Sharif would land in Pakistan by Thursday (today) and appear before the accountability court on Friday.

Requesting anonymity, a senior PML-N stalwart referred to the reports of a covert deal between the former PM and security establishment. "In these circumstances, Mian sahib should have taken the initiative to return to Pakistan and hear the court verdict to clear the air of confusion that no deal is in the offing and he would face the challenges come what may."

He also referred to the poor sewerage conditions in Lahore and other parts of Punjab that have been inundated by rain water due to heavy downpour, thus exposing the former PML-N government to public criticism.

Nawaz, Maryam decide to return for accountability court hearing

"To tackle these kinds of challenges, you need a figure like Mian sahib at the helm. He is nowhere to be seen.  In politics, family commitments and personal priorities have to be compromised for a larger interest, especially when you are one of the leading political figures of the country who remained prime minister and headed the largest political party for decades."

'Vote ko izzat do' becomes bone of contention

The proposed inclusion of the PML-N's 'confrontational' motto 'vote ko izzat do' – uphold sanctity of ballot – in its manifesto has become a bone of contention between the top party stalwarts causing delay in the announcement of the party's manifesto for the general elections.

The manifesto was earlier scheduled to be launched in the last week of June and latest by July 1. However, it has yet not been made public. According to the PML-N sources, Sharif had directed the leadership to include 'vote ko Izzat do' as one of the manifesto points for general polls.

However, this slogan is said to be resented by none other than PML-chief Shehbaz Sharif who is said to be making attempts to strike a deal with the security establishment.

In this context, his last week statement in support of formation of a national government is also seen as a move to woo the support of the powers that be. A PML-N senator said there is a strong feeling in some the PML-N circles that Shehbaz is out to appease the establishment by uttering 'favourable statements.'

"There is an element in our party which believes that Shehbaz is desperate to win the favours of the security establishment. The idea of arrangements like national government and technocrat government is initiated by pro-establishment quarters. Endorsing national government aims to convey a message to powerful quarters that PML-N is ready to 'negotiate' if voted into power again," he said.