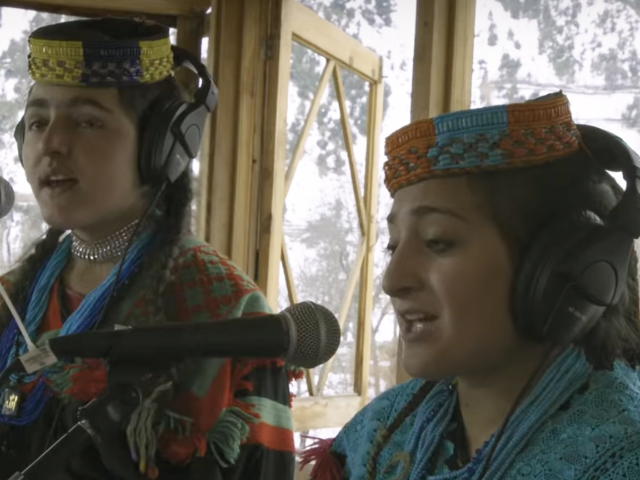 ---
KARACHI: Coke Studio has always tried to outdo itself every year. Initially produced by the legendary Rohail Hyatt, the show was offered to Bilal Maqsood and Faisal Kapadia from Strings who bid goodbye after season 10 in 2017.

Strings bid farewell to Coke Studio on a good note

With fans eager to know who would be replacing them, the team soon announced it was Noori's Ali Hamza and Zohaib Kazi. The duo promised to bring a new flavour to the traditional Coke Studio and seem to have accomplished their goal so far by introducing Coke Studio Explorer. This is what many are calling a bonus to the upcoming season that aims to discover musical talent from all across Pakistan.




The first song from the Explorer series features Ariana and Amrina, hailing from the Kalash valley. Titled Pareek, which means 'let's go,' speaks of a journey through a valley with your loved one.

Recorded live on location, the folk lore displays snow-capped mountains as back drops with the singers in focus - perfectly describing the beauty of the region and the talent that hails from it.




Promising to discover new voices from even the smallest of towns in Pakistan, Hamza and Kazi seem to be taking Coke Studio to the top again.  Of course, Hyatt still gets all the credit for creating the show but Hamza and Kazi might just be on the track to glory - the glory of Pakistani music.




Speaking of their quest through the snowy mountains in Kalash valley, Hamza says in the video, "Be it the deserts of Sindh or the plateaus of Chitral, young talent is driven and wants to do something for their country." Kazi adds that, instead of calling singers to the studio from all over Pakistan, they've decided to embark on a journey where the producers and the entire team goes to these exotic locations themselves.

Ariana and Amrina reveal that they have always wanted to be singers and appear on TV. Upon finding out that they will be a part of Coke Studio, the young girls were ecstatic. The recordings were a little tough for them as it was the first time they were singing with proper equipment and yet, they managed to pull it off.

Hamza and Kazi also add that their journey to Chitral to find an all-female "indigenous act" proved to be a life-changing experience.

It's now time to see who Ariana and Amrina will be performing with in season 11. We're rooting for Atif Aslam as his duet Man Aamadeh Am with Pashto singer Gul Panra in 2015 was loved by many. Or maybe Ali Zafar could bring his rockstar charm to their beautiful, traditional tunes? Or better yet, maybe Ariana and Amrina will be killing it on their own.

'Coke Studio' unveils Ali Hamza, Zohaib Kazi as producers for season 11

Watch the song here:


Have something to add to the story? Share in the comments below.