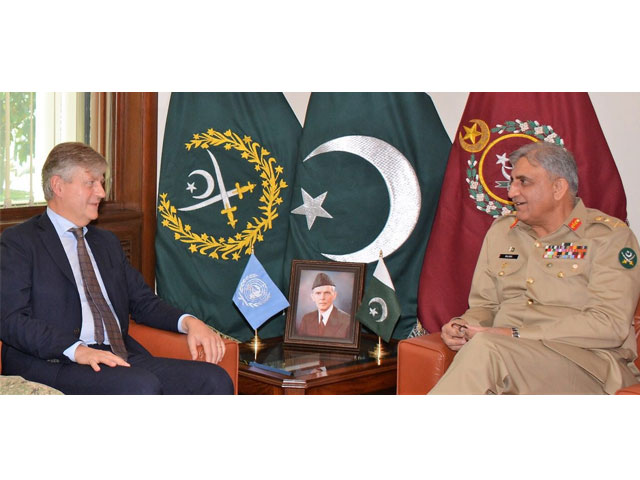 ---
Undersecretary General United Nations Department of Peacekeeping Operations Jean Pierre Lacroix called on army chief General Qamar Javed Bajwa at the military headquarters in Rawalpindi on Monday.


Mr Jean Pierre Lacroix, USG UNPKO met Army Chief at GHQ & visited Centre of Intl Peace & Stability, Rawalpindi. Paid rich tribute to Pakistani Peacekeepers for their professionalism, sacrifices & contributions to global peace efforts.@UNPeacekeeping @Lacroix_UN @LodhiMaleeha pic.twitter.com/eIKqI1Y87V

— DG ISPR (@OfficialDGISPR) July 2, 2018


"The visiting dignitary acknowledged and appreciated Pakistan Army's sincere efforts and sacrifices in United Nations Peacekeeping Operations," the Inter-Services Public Relations (ISPR) said in a statement.

"[The] COAS affirmed that Pakistan will continue to play its positive role being one of the highest troop contributing nation for maintaining international peace and security under the United Nations flag," the military's media wing added.

The UN official paid rich tribute to Pakistan Army. "We are extremely grateful to Pakistan for its warm welcome and also for Pakistan's outstanding contribution to the UN peacekeeping missions," Lacroix said.

"This visit was also an opportunity to pay tribute to 156 Pakistani peacekeepers who lost their lives serving the UN," he added while applauding the sacrifices rendered by Pakistani forces for global security.

UN acknowledges sacrifice of seven Pakistanis

Lacroix  also expressed special thoughts for the martyred personnel, their families and extended the United Nations' gratitude to all Pakistani peacekeepers currently serving in UN missions.

"All of them are paying a price for that and we are extremely grateful," he added. "Pakistani Army and armed forces' contributions to our missions are really making a difference and we think it's an outstanding contribution to the cause of peace and stability in the world."

Caretaker Minister for Interior Muhammad Azam Khan on Monday also expressed Pakistan's commitment to continuing to play its positive role for maintaining international peace and security under the UN flag.  He was talking to a delegation headed by Lacroix in Islamabad.

Lacroix appreciated Pakistan's role in UN international peace missions and said its contributions are acknowledged internationally. Khan reassured Pakistan's enduring efforts for maintaining peace and harmony in the region.

In many cases peacekeepers make the difference between lives and deaths for these vulnerable civilians and there again we have seen how much the Pakistani peacekeepers were helpful in protecting civilians.

Lacroix also visited the Centre for International Peace and Stability (CIPS) at the National University of Science and Technology (NUST).

While interacting with the students and faculty members, the visiting dignitary paid rich tribute to the sacrifices of Pakistani peacekeepers for global peace and security and saving civilian lives under the UN umbrella.

The CIPS was established in 2013 to provide peacekeeping training to domestic and international peacekeepers and was inaugurated by then UN secretary general Ban Ki-moon.

Last month, the UN honoured seven Pakistanis, among 128 military, police and civilian personnel from 38 countries, who lost their lives while serving in peacekeeping operations during the year 2017.

Pakistani peacekeepers have participated in 44 peacekeeping missions in 26 countries all over the world. At present, there are more than 6,000 Pakistani troops on different UN peacekeeping missions.

Traditionally, Pakistani contingents are highly reputed for their professionalism and unparalleled commitment for the conservation of global peace.