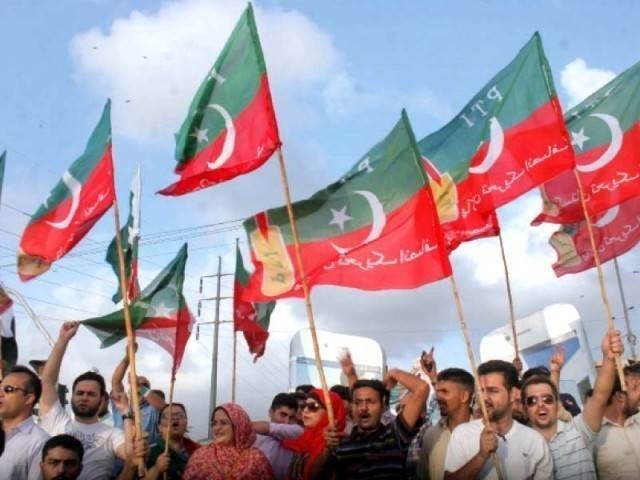 ---
PESHAWAR: Activists and workers of the PTI, dismayed with the way electoral tickets were awarded, have openly criticised their party leadership for deciding the awardees on the basis of favouritism. They warned this could harm the party image in upcoming general elections.

Some party workers, dismayed at the lobbying in the party, have reiterated that they would rather contest the upcoming election as independents against the chosen Pakistan Tehreek-e-Insaf (PTI) candidate in some constituencies.

Retract allegations or face action, 'expelled' PTI lawmakers warn Imran Khan

The party had late on Sunday released a revised list of its candidates it was endorsing for the national and provincial's assemblies.

There were few major changes in Khyber-Pakhtunkhwa even as the party adjusted some longstanding members on some undecided seats.

In Mardan, Ali Mohammad Khan was awarded a ticket for his constituency of NA-22 Mardan. On the other hand, Iftikhar Khan Mashwani was awarded a ticket for PK-54.

In Peshawar, former provincial minister Shah Farman has withdrawn from the NA-29 seat. Instead, the ticket was awarded to Nasir Khan Musazai — who recently joined the party after leaving the Pakistan Muslim League-Nawaz (PML-N).

Farman will now contest from two provincial assembly seats instead, PK-70 and PK-71. His ticket for PK-72 has also been revised in the new list, with the ticket for the constituency now awarded to Fahim Ahmad, a PTI local body councillor in Peshawar.

With Musazai awarded the NA-29 ticket, his PK-79 seat was awarded to former MPA Fazal Ilah.

In Swat, the party has cancelled the ticket for Mehmmod Khan in NA-2 and awarded it to former MPA Dr Haider Ali.

Talking to The Express Tribune, PTI worker and PK-73 hopeful Aimal Khan criticised the party leadership for its decisions, claiming that several tickets were awarded on the basis of nepotism apart from deals amongst the leaders.

He pointed out that as many as 33 candidates had applied for tickets in PK-73. The party, though, chose to award the ticket to Taimur Jhagra, who does not even hail from the constituency.

He said party old guard and successful national assembly lawmaker Engineer Hamidul Haq has been ignored by the party with his ticket awarded to Sher Ali Arbab on NA-30 Peshawar — a cousin of Arbab Shehzad, an adviser to PTI Chairman Imran Khan, and openly flouts Imran's claims of not awarding tickets to 'family members'.

JI formally parts ways with its coalition partner PTI in K-P

Dilroz Khan, who has filed a petition challenging Jhagra's nomination for PK-73, claims that the PTI endorsee holds a UAE Aqama which is not mentioned in the nomination papers.

He said that if the party does not revise its decision on PK-73, he will contest the upcoming elections as an independent against the party's chosen candidate.

Akhoonzada Hussain Ahmad, a candidate of NA-6 Lower Dir, said that despite the party's insistence on prioritising education, the party had awarded the party ticket to an illiterate person just because he is a friend of former chief minister Pervez Khattak's brother Liaqat.

He said that he had never considering contesting elections against the party candidate but the party decision had disappointed him.

Another candidate of PK-78 Peshawar, Meena Khan Afridi, said that he is a strong supporter of PTI for the past six years but the party leadership chose to award a ticket on the basis of favouritism and ignored the merit.

He complained that names of confirmed candidates were removed from the final list while names of those have been included who paid large sums to the party leadership.

Workers leaving PTI in droves

PTI is facing a dire situation in Swabi where its member and district head Faheem Akbar Khan, his brother Noordad Khan, Abbas Akbar Khan, Jahanzaib alias Jan Baja, Ashfaq Ali,  have announced plans to defect to the Jamiat Ulema-e-Islam-Fazl (JUI-F).

They will be joined by Awami National Party (ANP's) local leader Major (retired) Afsar Khan Tarakai and Village Counselor Gohar Khan.

They announced their defection at a JUI-F workers' convention at the Darul Uloom Islamia Mazharul Uloom Dagai in Swabi.

The convention was presided over by Maulana Hamdullah Jan Dagaey Baba Ji while a large number of JUI-F and Jamaat-e-Islami (JI) leaders and workers participated in the meeting.

JUI-F senior amir and MMA PK 19 candidate Ataul Haq Dareesh, MMA candidate from PK-47 Ashfaqullah Khan Dagai and other office bearers of MMA were also present.

Jan accused the 'secular politicians' of ruining the country over the past 70 years. However, with a victor for MMA in the upcoming elections, he promised to turn Pakistan into a truly Islamic country.

Darwaish urged party workers to spread their message to every house.

Mehmoodul Hassan accused the secular politicians of not only shaking the foundations of Pakistan but also working as agents of the west.

(With additional input from our correspondents) 

Published in The Express Tribune, June 26th, 2018.