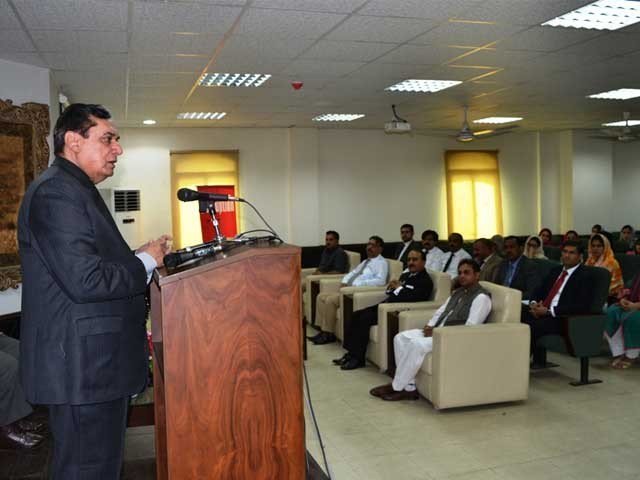 ---
ISLAMABAD/ LAHORE: National Accountability Bureau (NAB) Chairman Justice (retd) Javed Iqbal has vowed to continue the war against corruption without any discrimination despite receiving threats of bomb attacks on the bureau's headquarters.

Despite serious threats, such as bomb scares, and challenges being faced by NAB, the bureau will file references of different mega corruption cases in the coming days, he said while visiting the NAB Complex in Lahore on Monday.

Iqbal was briefed by Director General NAB Lahore Saleem Shahzad and other officers about the progress in the ongoing cases.

PML-N candidate contesting polls against Chaudhry Nisar taken into custody

Speaking on the occasion, the NAB chief said that he was proud that the bureau reopened mega corruption cases that were catching rusting and even made encouraging progress.

"This has happened for the first time in country's history that the corrupt elements are being interrogated," he stated.

Justice (retd) Iqbal said that the national corruption watchdog had nothing to do with the elections, adding that the NAB considered only protection of the interests of Pakistan as its prime responsibility and their prime role was the eradication of corruption.

NAB arrest accused in housing scam

He said alleged embezzlement worth millions of rupees was done by officials in 56 companies of the province. He also appreciated NAB Lahore for its performance as the bureau recovered and returned Rs16 billion to victims and also busted 1,328 accused persons over the last seven months.

NAB Headquarters security handed over to police commandos 

Meanwhile, Caretaker Interior Minister Muhammad Azam Khan has issued directives to beef up security of NAB Headquarters in Islamabad. The decision was taken against the backdrop of 'high profile cases' being taken up by the bureau.

In a statement issued to the media, the interior ministry stated that on the directives of the interior minister, the IG Islamabad police has handed over the security of the NAB Headquarters to the commandos of the police.
COMMENTS
Comments are moderated and generally will be posted if they are on-topic and not abusive.
For more information, please see our Comments FAQ