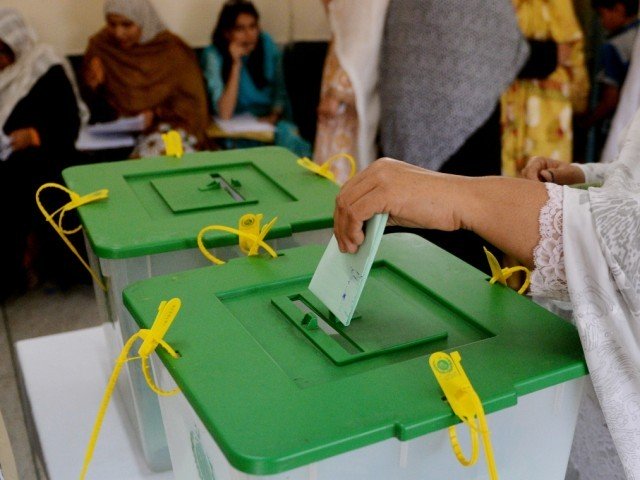 ---
PESHAWAR: A major bureaucratic reshuffle in the Khyber Pakhtunkhwa (K-P) ahead of the general election has sparked controversy as the top poll body has expressed reservations over the move, saying some officers' transfer could 'hamper the smooth election process'.

The K-P chapter of the Election Commission of Pakistan (ECP) has written a letter to its secretary in Islamabad to voice its concern over the transfer and postings which the K-P government notified on Thursday evening.

Written by the Provincial Election Commissioner Pir Maqbool Ahmad, it says the K-P government has transferred some officers which the ECP had notified as returning officers (ROs), district returning officers (DROs), district monitoring officers (DMOs) and monitoring teams via a notification issued on May 7, 2018.

The letter, a copy of which is available with The Express Tribune, says the government on Thursday ordered transfer and postings of various grade-21 to grade-17 officers, some of whom were also notified by the ECP as the ROs, the DROs and the DMOs for the general election scheduled for July 25.

"The transfer/postings of ROs/DROs at this belated/critical stage could hamper the smooth election process," it states, requesting the ECP secretary to take up the matter with the K-P government and cancel the notification to the extent of the officers so that the ongoing election process may not suffer.

The letter carries names of 9 officers most of whom were posted as deputy commissioners in tribal areas of the erstwhile Federally Administered Tribal Areas (Fata).

NA-267 candidate Kalaoi Rind optimistic PTI will win elections

The K-P government on Thursday ordered the transfer and postings of 141 officers from grade-21 to grade-17, removing them from their respective seats and assigning them new slot and duties.

A few days ahead of the reshuffle it was decided that all officers posted during the K-P's former Pakistan Tehreek-e-Insaf (PTI) led government would be shuffled but surprisingly many of the officers were not transferred.

"You have left secretaries of local government, relief, education and the additional chief secretary but changed others. Similarly, commissioner Kohat, Peshawar and Malakand have also been kept" said a senior government official commenting on the reshuffle.

When contacted, the K-P election commissioner said he has approached the ECP regarding the transfers of their appointed ROs, DROs and DMOs. The ECP will take up the matter with the K-P government.

"We are not consulted in transfer-posting rather the ECP head office looks after the matter," Maqbool said when asked if he was kept in the loop by the K-P government.

The K-P Secretary Administration Arshad Majeed said an ECP letter is circulating but they will respond if the ECP writes to them about the issue. Majeed was the K-P secretary establishment until Thursday when he was transferred and posted as secretary administration.

PM Mulk pledges full support to ECP for polls

When asked why all secretaries and commissioners were not transferred, he said, "We have acute shortage of officers and we can't replace all the existing officers with fresh one".

Other transfers and postings

Meanwhile, the ECP also green-lighted transfer and posting of 965 police inspectors in Punjab and 137 assistant commissioners in Sindh province.

According to details, among the 965 inspectors of Punjab, 221 belonged to Lahore. Of these Lahore based inspectors, 106 Inspectors have been transferred to Gujranwala, 4 to operations wing, 55 to Faisalabad, 53 to Rawalpindi, two to Sahiwa and one to Sargodha region.

Fifty-nine (59) Inspectors of Sheukhupura Region have also been transferred. Thirty (30) of these have been transferred to Sargodha, 28 to Sahiwal, and one of them has been transferred to Faisalabad.

From eighty nine (89) Inspectors of Faisalabad, 39 have been transferred to Gujranwala while 50 of them have been transferred to Lahore.  There were 77 inspectors in Sargodha region, 30 of which have been transferred to Sheikhupura while 47 inspectors have been transferred to Sahiwal Region.

Gujranwala region had 162 inspectors, 32 of which have been transferred to Rawalpindi, 35 to Faisalabad and 95 to Lahore region. From 79 inspectors of Rawalpindi region 31 have been transferred to Gujranwala while 48 have been posed in Lahore.

There were 66 inspectors in Sahiwal region, 38 of which have been transferred to Sheikhupura region while 28 have been transferred to Sargodha region.  From 92 inspectors of Multan region, 48 have been transferred to DG Khan while 44 have been sent to Bahawalpur region.

Out of the 72 inspectors of DG Khan Region, 60 have been transferred to Multan while 12 have been posted in Bahawalpur. From 48 inspectors of Bahawalpur region, 19 have been transferred to DG Khan and 29 have been directed to report to Multan.

The ECP had directed authorities to ensure non-involvement of political interference and asked the department concerned to refrain from posting officers at their home district.

The ECP and caretaker setup have almost completed the massive task of reshuffling provincial bureaucracy in response to the objections raised by some political parties.
COMMENTS
Comments are moderated and generally will be posted if they are on-topic and not abusive.
For more information, please see our Comments FAQ