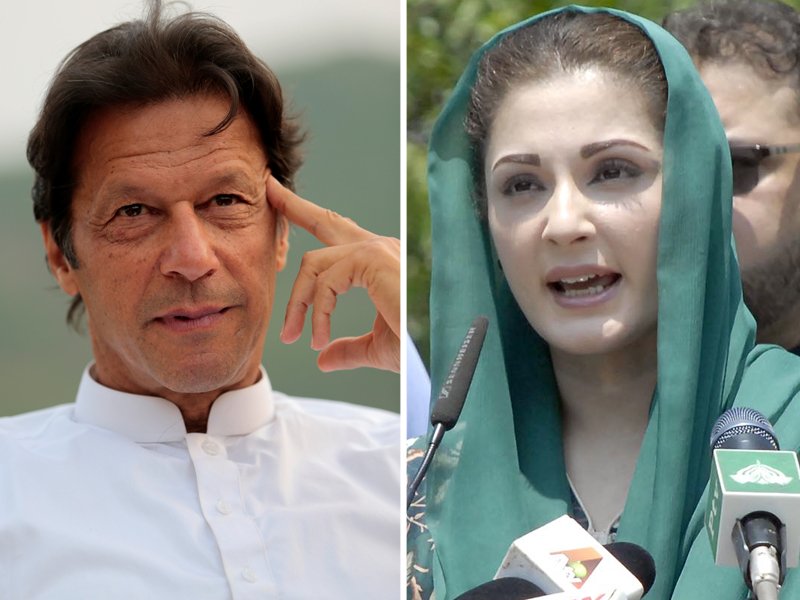 ---
The details of the personal assets of Pakistan Tehreek-e-Insaf (PTI) Chairperson Imran Khan, Pakistan Peoples Party Co-Chairman Asif Ali Zardari and Pakistan Muslim League - Nawaz leader Maryam Nawaz, declared in their nomination papers for the general elections, have been made public.

Imran Khan owns 168 acres agricultural land from where he has declared an income of Rs2.36 million. He also receives salaries of Rs180,0991. Surprisingly, he does not own a personal car or jewellery. According to his assets and tax return details, he has an annual income of Rs4.776m from agriculture, salary, pension and bank profit. He paid Rs10,3763 as income tax last year. He made 28 foreign trips between 2015 to 2018, most of them being sponsored. He has shown his wife Bushra Bibi and two sons as his dependents who have no assets.

The value of furniture and other articles under his use is Rs0.5 million. He owns animals of Rs0.2 million. He has two foreign currency accounts in Islamabad. One of them has $37,8760 while the other one has $1,470 in it. He does not own a business or property abroad but has 14 properties in different places in Pakistan, including Lahore and Islamabad, which, according to the details submitted, have been inherited.

Caretaker PM declares massive assets

PPP co-chairman Asif Ali Zardari has six bulletproof vehicles, thousands of acres of agricultural land and property in Dubai. According to the papers attached to his nomination papers, he is fond of arms, horses and livestock and has spent heavily on them. He also has a UAE work permit. He owns more than a dozen properties in Pakistan. He also has shares in late Benazir Bhutto's five properties. He owns a plot in Alsafa in Dubai which was purchased for Rs100 million. The stated net worth of PPP Co-Chairperson Asif Ali Zardari is Rs 758.6 million, with his son Bilawal owning one half of it.

Asif Zardari owns three Toyota land cruiser vehicles, two BMW cars and one Toyota Lexus automobile. All of these vehicles are bulletproof. The total price of horses and the cattle under his possession is Rs90 million, while the value of arms he has is Rs16 million. He has made an investment of Rs12.9 million in landmarks. He has invested Rs0.89 million in Asif Appartments (Huma Heights). According to the documents, he does not own any businesses abroad. He has invested Rs1.07 million in Zardari group (Pvt Ltd) and Park Lane E Estate Pvt Ltd and given Rs4.5 million as loan to Zardari group. He has Rs209 million in cash and deposited Rs89.7 million in Silk Bank and Rs1000 in Sindh Bank, Larkana Branch.

He has two properties in Clifton worth Rs111.5m. A 2,000-yard bungalow in Defence Housing Authority Karachi was purchased for 0.85m. He has a house in Nawabshah, worth Rs22.5m. He owns agricultural land in Nawabshah, Larkana and Tando Allahyar while a total of 7,400 acres of land in Nawabshah, Matli, Badin and Tando Allahyar has been obtained on lease. Only 349 acres agricultural land is in his name. He earned Rs114.085 million from farming.

Maryam Nawaz's nomination papers reveal assets worth millions

According to papers, Zardari earned Rs105.56 during 2015 from farming while Rs7.666 from the business. Thus, in 2015 he paid tax of 1.9056 million.

In 2016, Zardari earned Rs114.085m from farming and Rs8.2459m from the business and paid Rs2.105565m in tax.

Asif Zardari earned Rs134.016650m from farming and Rs9.7514 million from business in 2017 and paid tax of Rs2,632,490.

According to the submitted affidavits, Bilawal Bhutto Zardari declared more assets than his father. Bilawal owns assets worth Rs1.5 billion. He has stated most of his property to be gifts received from Asif Zardari, Benazir Bhutto, Zulfiqar Ali Bhutto and Hakim Ali Zardari.

He has two dozen properties in and outside Pakistan. He has Rs50 million in cash and Rs13.8 million in banks. He does not own a car. He has two UAE work permits while the price of Bilawal House at Clifton Karachi is stated to be Rs3.0 million. He also owns villas in Dubai, of which one was a gift. Bilawal has 20 residential, commercial and agricultural properties in Pakistan. Most of them were gifted to him by his parents, grandfather and others. Bilawal has prize-bonds worth Rs1.2 million from his mother. He has shares worth Rs1.1 million in the Zardari group and Park Lane E Estate. He made 22 investments in Dubai and one in Britain. Most of these were given to him by his mother as gifts. He has arms, furniture and articles of daily use of Rs3.0 million.

ECP swarmed by politics, politicians

Maryam Nawaz 's statated documents show that she owns agricultural land worth 1,506 canals and one marla agricultural land which was increased by 548 canals during the last three years. She has shares in Chowdhry Sugar Mills, Hudabiya Paper mills, Hudabiya Engineering Limited, Hamza Spinning Mills and Muhammad Bakhsh Textile Mills. She has invested Rs3.462 million in the family's under construction flour mills. She has loaned Rs7.0 million to Soft Energy Pvt Ltd.

The PML-N leader owns jewellery worth Rs1.7 million. She received gifts of Rs49.277m. She also owes Rs28.9 million to his brother Hasan Nawaz. She spent Rs6.4 million on foreign trips during the last three years.

The chief of Awami Muslim League Sheikh Rashid declared assets worth 7.674 million in cash while Rs12.715748 million in banks. He has three vehicles worth tens of millions of rupees. One of them is Toyota double cabin, one Toyota land cruiser and one is a tractor trolley. The value of furniture and other things in use at home amount to Rs3.2 million and other assets value 1.365705 million. He has no foreign assets, property or bank accounts. The value of miscellaneous assets in Pakistan is Rs29.0685 million. He also keeps arms worth Rs0.63 million at his home.

JUI-F Maulana Fazlur Rehman has a bank balance of Rs2 million, jewelry worth Rs0.95 million and a plot for Rs1.5 million. The declared value of his home is Rs2.5 million. He also has a plot of Rs0.7 million in Shorkot.
COMMENTS (1)
Comments are moderated and generally will be posted if they are on-topic and not abusive.
For more information, please see our Comments FAQ