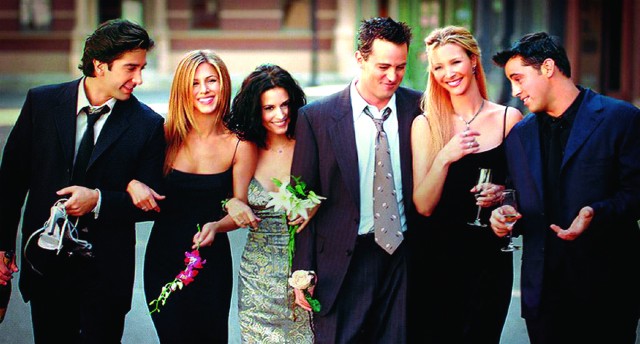 ---
MUMBAI: Director Siddharth Anand says his new film Anjaana Anjaani, which stars Ranbir Kapoor and Priyanka Chopra, is inspired by the hit American sitcom "Friends".

"I remember when I watched 'Friends' I wanted to meet and know every character. That's how I want audiences to feel about Ranbir and Priyanka in Anjaana Anjaani. When Dilwale Dulhaniya Le Jayenge came out, you wanted to feel and touch Raj and Simran. That's how I want audiences to feel about Ranbir and Priyanka ... everyone in the team has given his or her best to this film," Anand said.

Anjaana Anjaani has been scripted by author Advaita Kala. "She wrote a chick-lit novel called Almost Single. I asked her to develop a story by my wife Mamta. Ranbir and Priyanka had no reference points in any film for their performance...These are characters going through extraordinary, not easily relatable circumstances. The film is about a few days that two strangers spend together."

Anand has made many  films including Salaam Namaste and Bachna Ae Haseeno, which starred Kapoor and Deepika Padukone. For this film Anand had planned fantastic sets and great shots which were complicated to do.  Anand shot in Central Park's skating rink. "We shot in iconic New York. We had to have the skating rink shut down for our shoot for three days. Then we shot with Ranbir and Priyanka in New York's Cafe Lalo where Meg Ryan and Tom Hanks filmed in for When Harry Met Sally."

And they also needed to shoot on a bridge and they finally headed to Kuala Lampur to do that.

"We needed to take over a bridge completely for three-four days. Because of 26/11, we couldn't get the necessary permission. We finally got the bridge in Kuala Lumpur. They made it as easy for us as shooting in Goregaon. Thanks to our producer Sajid Nadiadwala, we could shoot anywhere I wanted," said Anand.

The whole film was shot in live sound and is set to release on  October 1. Kapoor made his debut as a singer with this film but contrary to expectations, the song will not be part of the film's CD. "Ranbir has sung a one-and-half minute track. But it is part of a comic scene, so he will only be singing in the film. We needed Ranbir's character, not Ranbir, to sing. So those who want to watch him sing will have to wait for the film," said Anand.

"I did my first film Salaam Namaste in 2005. If I'm doing another romantic film, it better be even cooler and more contemporary. Anjaana Anjaani is the riskiest film ever; I've experimented with the style and performances," said the director. "If audiences believe in the couple, they'll come back repeatedly to watch them. If they don't they'll reject them completely. It's so character-driven. If their performances don't work, the film doesn't," he added.

Published in the Express Tribune, May 31st, 2010.