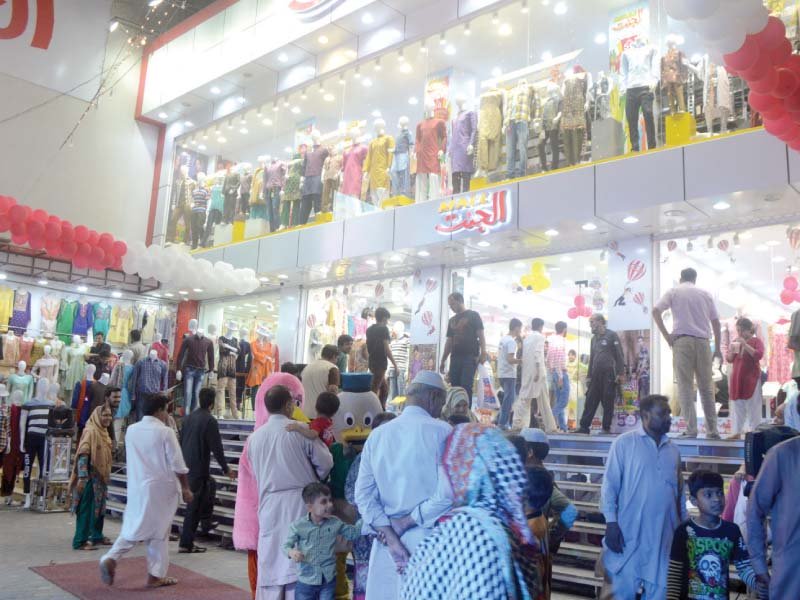 ---
ISLAMABAD: The issue of parking places in busy markets of twin cities of Islamabad and Rawalpindi has increased as a large number of citizens from neighbouring areas have been visiting for Eid shopping.

In many congested areas including Aabpara, Melody Market, Jinnah Super Market, Saddar, China Market, Commercial Market, Tench Bazaar, vehicles can be seen parked on roads, disrupting the smooth flow of traffic. The chronic issue of encroachment by vendors and motorists has made it difficult for shoppers to find a place to park their vehicles.

Eid shopping gains momentum

A female driver Uzma Zaeem said, "In Saddar, there are only a few plazas that have their own parking areas in the basement, they charge Rs20 per hour and double the parking charges after every hour. We went shopping and had dinner there, which took three hours, so I had to pay Rs60 for parking which seemed unfair. Due to the heavy fee visitors typically avoid using it."

"It is difficult to visit Saddar in a car, especially Bank Road, from 3pm to 11pm due to the unavailability of a parking space," she said.

It is pertinent to mention here that majority of the plazas on busy commercial sectors have also outsources their outside space to some parking contractors, which is an illegal act. A shopper Ali Imran in Aabpara said, "It has become a serious issue and is bound to get worse in the future. The absence of a proper parking facility leaves people with no choice but to park their cars on roadside, which in turn results in serious traffic jams."

"There is no proper parking space on College Road and shopkeepers reserve the parking area in front of their shops which creates even more trouble for shoppers," he added.

3 traditional Eid recipes with a fun twist

A traffic police officer said, "The traffic department has outlined a plan for easing traffic flow in many areas of the city in the wake of the Eid festival."

Diversions and restrictions on various Chowks and U-turns of the city have been made. "We need citizens' cooperation too; and we urge motorists to use available space carefully. This can be done by more usage of public transportation than private transportation," he added.  

Published in The Express Tribune, June 15th, 2018.