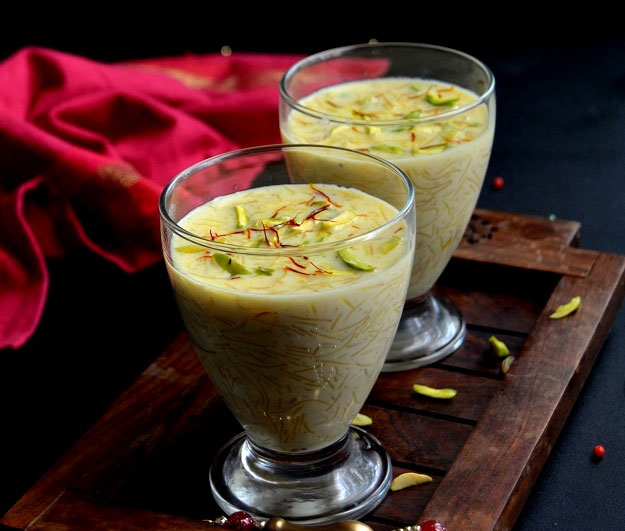 ---
Eidul Fitr is upon us and it's time to reward ourselves for fasting in this heat. And what better way to do that by eating away?

One of the biggest reasons to love Eid is all the delicious food that comes with it. Be it sheer korma, different kinds of biryani or some exotic dessert your mother wants to experiment with this year, Eid treats tend to be pretty amazing.

6 mouthwatering Eid desserts you must try

While we are all for the mouthwatering traditional recipes, why not go ahead and give them a fun twist? Here are some cool and quirky new serving ideas that you can surprise your guests with this Eid. We promise this will make your food tray look a hundred times more appealing!

1. Sheer Korma shots:




The first dish, which I'm almost certain is on everyone's Eid menu, is sheer korma. Each household has its own take on this traditional sweet dish.

Here's an easy recipe for a basic sheer khurma:


Fun Twist:

Instead of serving it in a huge bowl as one usually does, try single-serving it. You can use shot glasses to give the Sheer Korma a modern look. Trust me, your guests will love it!

2. Seekh Kebab Balls:




Seekh kebabs, which usually are served on a skewer, are traditionally made on an outdoor grill over coals, which helps add colour and a smokey flavour to the meat.

Here's an easy recipe for a basic seekh kebebs:


Fun Twist:

Instead of making them the traditional way in a long kebab form, go for tiny balls and insert a toothpick on top, so it's easy to hold.

Also, you don't even need a whole grill for this! You can easily make this in your oven or on stove. Just make sure to charcoal smoke your kebabs to give it that authentic barbecue touch!

3. Chicken Tikka spread:




This particular dish barely needs an introduction. Despite its Afghan heritage, the Chicken Tikka is eaten all over the world and considered one of the most popular foods of all times!

Here's an easy recipe:


Fun twist:

Make sure you use boneless, skinless chicken breasts or thighs. And you can serve it like shawarma meat with pita bread, raita, salad and chutney! It'll be a definite hit!


Have something to add to the story? Share it in the comments below.