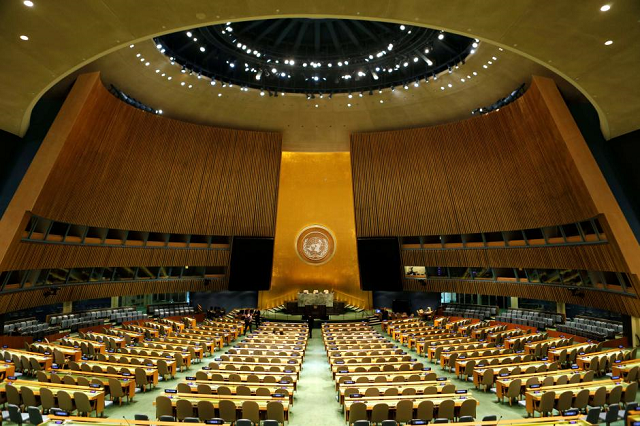 ---
Pakistan has secured its place at the United Nations (UN) Economic and Social Council (ECOSOC) for a three-year term, starting in 2019.

The election for the position was held at the UN General Assembly in New York, Pakistan secured a strong majority of 175 out of 186 votes cast, according to a Foreign Office spokesperson.

Pakistan is one of the four countries elected to the ECOSOC representing the Asia Pacific region.

UN votes on condemning Israel over Gaza violence

ECOSOC is one of the most important principal committees of the UN that undertakes important tasks such as coordination, policy review and formulating recommendations on economic, social and environmental issues.

While on the other hand,  it is also responsible for implementation of all important Sustainable Development Goals (SDGs).

Pakistan re-elected in UNICEF, Committee on NGOs

Dr Maleeha Lodhi, Pakistan's permanent member to the United Nations said that "Pakistan's election to the council symbolizes the positive role the country is playing within the United Nations framework."

UN agency hopes to win reprieve for refugees

She added that as a member of ECOSOC, "Pakistan will continue to work towards strengthening the council, making it more efficient, effective and responsive to the current social, economic and environmental challenges."
COMMENTS
Comments are moderated and generally will be posted if they are on-topic and not abusive.
For more information, please see our Comments FAQ