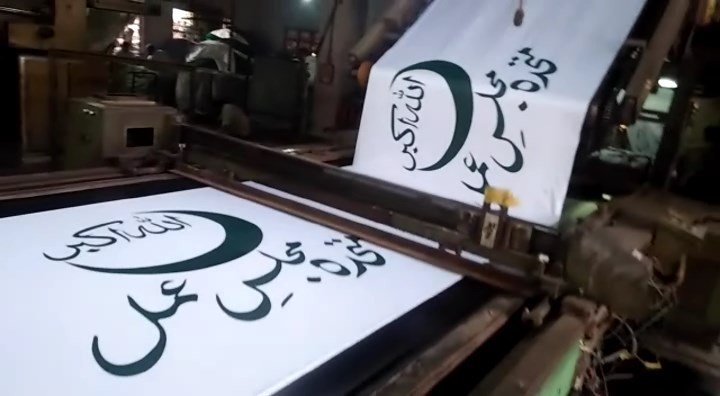 ---
KARACHI: The upcoming elections have resulted in a boom for flag printing factories in the city as political parties have been ordering them to produce their flags in bulk. In the well-known flag printing factories, work continues these days in several shifts for 24 hours.

Approximately one-and-a-quarter month is left before the elections that have been scheduled on July 25. It is expected that political campaigns of all the political parties will gain a big momentum after Eid, for which the parties have been preparing beforehand. Having their flags printed on a large scale is a part of the political parties' preparations before they go fully into their campaigns.

The printing factories are working day and night to produce flags for political parties. Dozens of workers having expertise in flags cutting, stitching, printing and packing are working at the VIP Flags factory in Korangi Industrial Area, where the flags of the Pakistan Peoples Party, Pakistan Muslim League - Nawaz , Muttahida Majlis-e-Amal, Pakistan Tehreek-e-Insaf and Pak Sarzameen Party are being simultaneously produced.




The political parties ordering to print their flags in bulk indicates that every party is enthusiastic for running its election campaign, said VIP Flags Director Asim Nisar. We are working day and night in many shifts due to the large orders we have been receiving from political parties, he added.

Disqualification case: SHC issues notices to Sohail Anwar Siyal, federal govt, chief election commissioner

The director explained that they have to produce flags of various sizes as they have to be used for different purposes. Some sizes are meant to be used at political gatherings, whereas, other sizes are fit to be hoisted on buildings. Moreover, there are other sizes which are meant to be fixed on cars and motorcycles, he said.

According to Nisar, besides flags, the factory has also been receiving orders for batches, caps, mufflers and other items carrying slogans and symbols of political parties.




Due to immense work load, the factory workers are as busy as bees, said the director. He anticipated that the factory would receive more orders after Eid. When asked whether the sales of the factory would decline after the elections, Nisar replied in the negative. August will be around the corner after the elections and the factory will be producing national flags for the Independence Day, he said.

Nawaz sees record voter turnout in 2018 general elections

In the meantime, Sheikh Nisar Parchamwala of VIP Flags has appealed to the government to ensure provision of water, electricity and gas in the industrial areas so that the factories do not face difficulties in the preparation of election items.