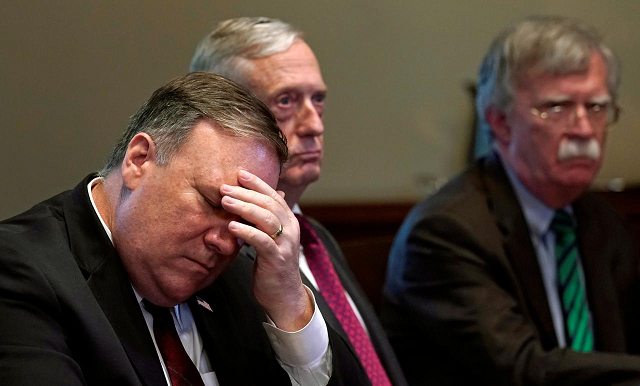 ---
WASHINGTON DC: US Secretary of State Mike Pompeo and Donald Trump's national security adviser, John Bolton, have pursued different approaches in the run-up to next week's summit between the US president and North Korean leader Kim Jong Un in Singapore.

Japan PM seeks Trump's assurances over North Korea in latest two-way chat

Following is a timeline of some of the events involving the two senior Trump aides during the preparations for the historic meeting, which will be the first between a sitting U.S. president and a North Korean leader:

Easter weekend (late March/early April) - Pompeo, then CIA director and secretary of state nominee, secretly travels to North Korea and holds talks with Kim on the planned summit with Trump. The trip is made public on April 17.

May 9 - North Korea releases three American prisoners and hands them over to Pompeo, who, as the newly confirmed secretary of state, had made a second visit to North Korea, where he again met with Kim.

Trump's North Korea summit may bring peace declaration - but at a cost

May 13 - Bolton suggests in US television interviews that the Libya model of unilateral disarmament should be pursued in getting North Korea to abandon its nuclear weapons program.

May 16 - In a statement that threatens withdrawal from the summit, North Korea's first vice minister of foreign affairs, Kim Kye Gwan, derides Bolton's suggestion of the Libya model as 'absurd.'

Singapore to restrict airspace during US-North Korea summit

May 17 - Trump seeks to placate Kim, saying he is not seeking a Libyan-style approach to North Korea and that Kim's security will be guaranteed in any deal.

May 24 - Trump cancels the scheduled summit with Kim, citing Pyongyang's "open hostility," after North Korea repeated a threat to pull out of the summit and warned it was prepared for a nuclear showdown with Washington if necessary.

May 25 - Trump says the United States is having "productive talks" about reinstating the summit after North Korea issued a conciliatory statement saying it remained open to talks.

May 30 - Pompeo and high-ranking North Korean official Kim Yong Chol kick off two days of talks in New York to try to set the stage for the summit. US officials also meet with North Korean officials in the Demilitarized Zone separating the Koreas.

June 1 - Trump hosts Kim Yong Chol, who arrives at the White House bearing a letter from Kim Jong Un. After 90 minutes of talks, in which Bolton did not take part, Trump says the summit is back on and he will meet Kim in Singapore on June 12.
COMMENTS
Comments are moderated and generally will be posted if they are on-topic and not abusive.
For more information, please see our Comments FAQ