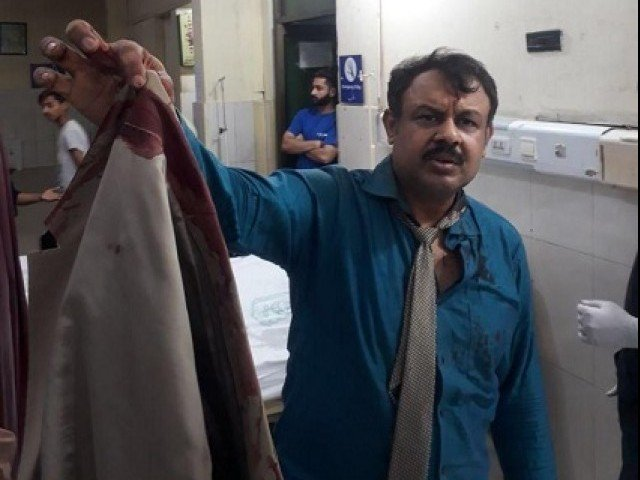 ---
ISLAMABAD: Chief Justice Mian Saqib Nisar on Wednesday took notice of the assault on senior journalist Asad Kharral and directed inspector general Punjab to submit a report on the incident in 24 hours.

Senior journalist and television anchorperson Asad Kharal was reportedly attacked by 'masked men' near Allama Iqbal International Airport in the wee hours of Wednesday.

Senior journalist and anchorperson Asad Kharal assaulted in Lahore

Confirming the incident to The Express Tribune, Superintendent of Police (SP) Cantonment Bilal Zafar said: "We have received a complaint of an incident claiming Kharal was tortured by unidentified men." he said.

The anchorperson was on his way home from the airport when his vehicle was intercepted. He was taken out from the car and assaulted. Kharal was then moved to Lahore Services Hospital for medical treatment. Some news reports claimed that Kharal, who had been highly critical of the previous government, was attacked allegedly by men affiliated with the former ruling party. However, Kharal is yet to accuse anyone of the attack.


I have been attacked by some person wearing masks, I am in hospital.

— Asad Kharal (@AsadKharal) June 5, 2018


Caretaker Law Minister Syed Ali Zafar condemned the attack on the senior journalist.

In a statement, he said freedom of expression is a basic constitutional right, and its protection is a constitutional responsibility.

The minister directed the authorities concerned to perform their constitutional responsibilities in this regard.

He also prayed for Asad Kharal's early recovery.

Former interior minister Ahsan Iqbal also condemned the attack on Twitter.


Strongly condemn attack on journalist Asad Kharal. Freedom of expression should be protected.

— Ahsan Iqbal (@betterpakistan) June 6, 2018


PPP Chairman Bilawal Bhutto said that the assault was an attack on the freedom of expression.


The abduction of Gul Bukhari & assault of Assad Kharral are unacceptable attacks on freedom of expression. These attacks must be investigated and those responsible held accountable. Censored Democracy na manzoor.

— BilawalBhuttoZardari (@BBhuttoZardari) June 6, 2018


Senior journalists also condemned the attack.


Severe head injuries of journalist @AsadKharal pic.twitter.com/AWW0Ql2F9p

— Hamid Mir حامد میر (@HamidMirPAK) June 6, 2018
Journalist Asad Kharal beaten near Lahore airport by unidentified men pic.twitter.com/lOio7K7npk

— omar r quraishi (@omar_quraishi) June 5, 2018
Asad Kharal, a journalist working for controversial BOL TV network, also got beaten up by unknown men in Lahore the same evening. His news TV network has immediately blamed PML-N political party to be behind the assault.

— Salman Masood (@salmanmasood) June 5, 2018
COMMENTS (1)
Comments are moderated and generally will be posted if they are on-topic and not abusive.
For more information, please see our Comments FAQ