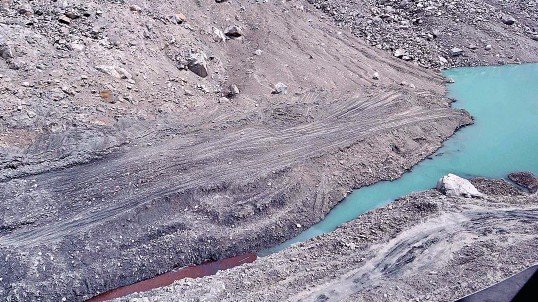 ---
Water outflow into the spillway has reached 400 cusecs on Sunday, from the landslide-triggered Attabad Lake.

Official sources indicate that the outflow might reach 300 cusecs by evening today. About 2,600 people have been trapped in the resulting outflow.

Earlier, Zamir Abbas, Assistant Commissioner Hunza, told The Express Tribune by telephone that the inflow of water to the lake was 3,000 cusecs while the seepage was about 100 cusecs. Tones of soil is holding back water in the lake. But Abbas warned that "it (the barrier) can collapse at any time triggering a flash flood."

He appealed to local residents not venture into low-lying areas.

Authorities are monitoring the situation round-theclock. They have also started aerial monitoring of the lake with Lt-Gen Nadeem Ahmed, Chairperson of the National Disaster Management Authority (NDMA), himself supervising the surveillance operation. Lt-Gen Ahmed said that the spillway has eased the water pressure "by half". Gilgit-Baltistan Chief Minister Mehdi Shah, meanwhile, said that they have completed their homework to deal with the impending disaster. He hoped that they would remain in control of the situation even if the lake bursts its banks.

Sixty-two downstream villages have been evacuated and 40 per cent of the local population has been shifted to camps set up for displaced people. In a related incident, at least 20 people were hit by an avalanche while trying to cross the high-altitude Hussainian pass in Skardu. Most of them were government employees hailing from the Gultari area of Astore. "We sent a team to rescue the stranded men. Nineteen of them reached home safely, but one is still missing," Deputy Commissioner Skardu Muhammad Ali told The Express Tribune.

The 23-kilometre long lake was formed on January 4 after a massive landslide blocked the fast flowing Hunza river, submerging several upstream villages and damaging the strategic Karakoram Highway (KKH) – the only road link between Pakistan and China.
COMMENTS (7)
Comments are moderated and generally will be posted if they are on-topic and not abusive.
For more information, please see our Comments FAQ