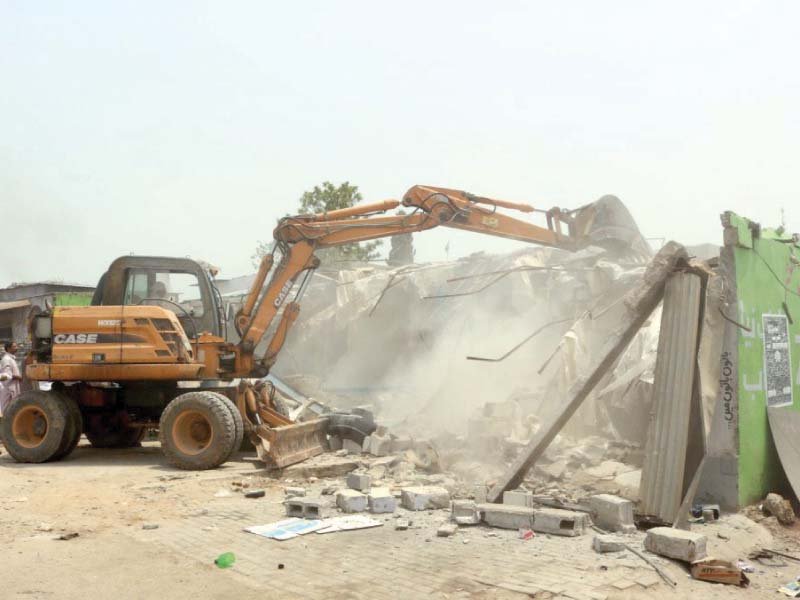 ---
ISLAMABAD: Capital Development Authority (CDA) carried out a joint massive operation along with Islamabad Capital Territory (ICT) Administration and destroyed 61 illegal commercial structures in Bhekha Syedan on Monday.

During the operation, 61 illegally constructed commercial structures including car showrooms, automobile workshops, spare parts shops, service stations, general stores, kiosks, restaurants, and scrap dealer shops were demolished with the help of machinery.

NAB uncovers bogus allotment of 10,000 acres in Jamshoro

In accordance with the orders of Islamabad High Court, CDA with the assistance of ICT removed illegal constructions and encroachments from Double Road in Bhekha Syedan area of Sector F-11. It is pertinent to mention here that CDA Enforcement Directorate had distributed notices to all shopkeepers by June 1 and asked them to vacate state land, which they did not follow through with.

Therefore, upon the expiry of the deadline, a forceful operation was conducted by CDA. The operation was carried out in collaboration with ICT Administration, Islamabad Police and Rangers. Two excavator machines and one chain dozer were used to demolish illegal constructions. CDA and ICT Administration collectively demolished 61 illegal commercial structures.

Pack up and leave, CCB tells schools and businesses in residential areas

The Islamabad High Court special instructions were passed by Chief Commissioner Islamabad CDA Chairman for complete removal of all illegal commercial activities functioning at Main Double Road, F-11 Bhekha Syedan.

CDA Enforcement Directorate Deputy Director Muhammad Ramzan and Additional Director Amir Olukh supervised the operation.

ICT Additional Deputy Commissioner Shoaib Ali was present at the scene with police of respective precincts with the backup of Rangers to control any law and order situations.

Published in The Express Tribune, June 5th, 2018.