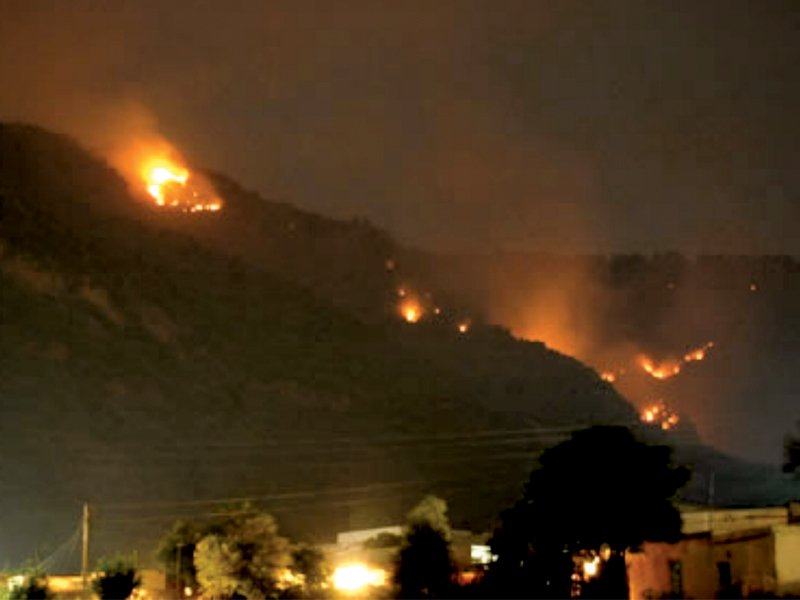 ---
ISLAMABAD: After the latest round of fires in the Margalla hills required the support of air-bowsers of the Pakistan Air Force to put out over the weekend, Chief Justice Nisar also took notice of forest fires, noting that they pose a serious threat to forests, wildlife and the environment in general.

With rising temperature: More wildfires erupt on Margalla Hills

Taking notice of the issue, the Chief Justice of Pakistan has issued notices to the Attorney General, the Environment secretary, Capital Administration and Development Division (CADD) secretary, Islamabad Metropolitan Corporation (IMC) Mayor Sheikh Anser Aziz, the chief commissioner, and Capital Development Authority (CDA) chairman.

This case too will be taken up on June 7.

Save Margallas: Protest against wildfires

Over five incidents of wildfires on the Margallas have been reported in recent months owing to the hot and dry weather. Moreover, the matter has been exacerbated by a discord between various departments responsible for resolving the situation including the CDA, the IMC and the Wildlife Department.

In a meeting of the Senate Standing Committee on CADD, the CDA chairman explained that after the creation of the local government, few resources are left with the civic body and the remaining are with the IMC and that the mayor of the city was responsible for controlling the fires.

Published in The Express Tribune, June 5th, 2018.