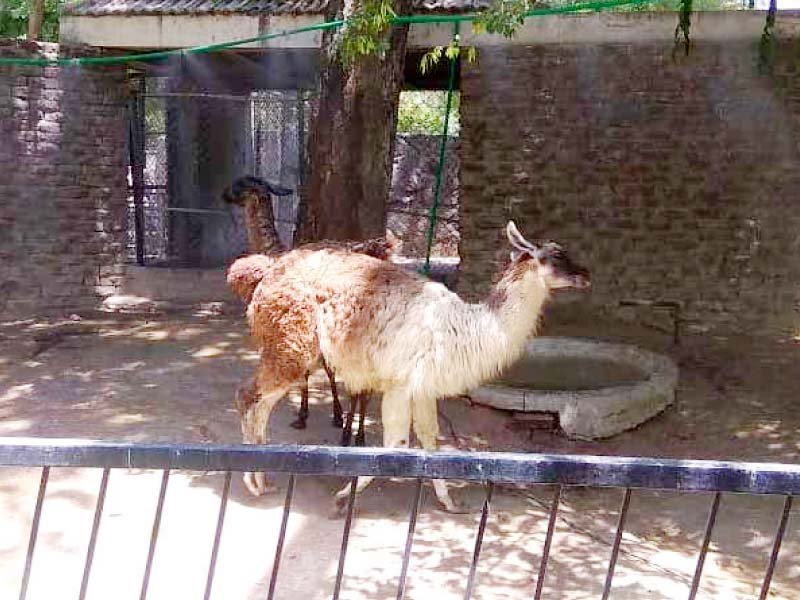 ---
LAHORE: A male guanaco died from a heat stroke at the Lahore Zoo on Monday.

Previously, the administration had installed makeshift overhead sprinklers, using plastic pipes fitted with nozzles, in order to keep the animals cool. Despite this, the guanaco, a species used to a much colder climate, succumbed to the relentless heat, in spite of veterinary doctors' best efforts.

This is the first death at the zoo during the summer, stated the Lahore Zoo administration. In order to cater to animals used to a much cooler climate, blocks of ice are being places in the enclosures. These animals include big cats such as lions, tigers, pumas and cheetahs, they added.

Lahore Zoo animals to enjoy cool drizzle in scorching heat

In addition to this, air coolers and overhead sprinklers have also been installed in the open enclosures of some of the animals, so that they are kept cool and are able to regulate their body temperature, the administration maintained.

The male guanaco, a camelid native to South America, came to the Lahore Zoo around a month and a half ago along with two females. One guanaco cost around nine million rupees. Earlier in March, A deadly blood disease claimed the life of another Bengal tiger at the Lahore Zoo.

This was the third reported tiger death. A disease by the name of 'blood parasite' slowly emptied out the tiger enclosure at Lahore Zoo. Within a month's span, the disease had killed two female and one male Bengal tiger, while the remaining few had also fallen victim to this crippling ailment.

Published in The Express Tribune, June 5th, 2018.