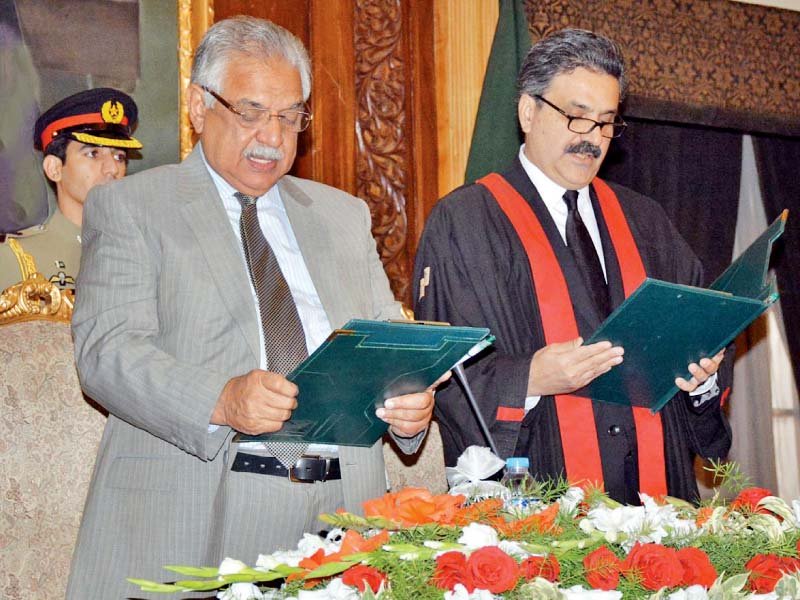 ---
ISLAMABAD: The Judicial Commission of Pakistan (JCP) has approved a proposal regarding the elevation of Peshawar High Court (PHC) Chief Justice Yahya Afridi to the Supreme Court, sources revealed to The Express Tribune.

A meeting of the commission was held under the chairmanship of Chief Justice Mian Saqib Nisar on Saturday to consider promotion of Justice Afridi as well as nomination of Justice Waqar Ahmad Seth as his successor as the top judge of the PHC.

Justice Seth may work as PHC chief justice till March 15, 2023.

Justice Yahya recuses himself from hearing Musharraf treason case

After the elevation of Justice Afridi, Supreme Court will regain its full strength. Presently, 16 judges are working in the top court with one seat lying vacant. Justice Afridi will work as SC judge till January 22, 2030 and will also be in line to become the chief justice of Pakistan after the retirement of Justice Muneeb Akhtar.

According to the SC's seniority list, Justice Asif Saeed Khosa will be the next chief justice of Pakistan, followed by Justice Gulzar Ahmad, Justice Umar Ata Bandial, Justice Qazi Faez Isa, Justice Mansoor Ali Shah and Justice Muneeb Akhtar.

At present, only one judge belonging to Khyber-Pakhtunkhwa is working in the Supreme Court, Justice Mazhar Alam Khan Miankhel, who will be joined by Justice Afridi following his elevation. Incidentally, no judge has been promoted from Balochistan since 2014, when Justice Isa was appointed as SC judge.

Meanwhile, eight judges including the CJP himself are from Punjab while six belong to Sindh.

Since the establishment of Islamabad High Court (IHC) in 2010, only one judge — Justice Iqbal Hameedur Rehman — has been elevated to the SC. One section of lawyers believes that the criteria of judges' elevation should include competence and reputation, and seniority should not be the primary factor.

Senior lawyers believe that Justice Afridi's elevation will be another good addition to the apex court.

It is also learnt that a committee led by Justice Khosa has been constituted to review JCP rules of 2010 while the Pakistan Bar Council (PBC) has already given recommendations for amendment to the rules. The PBC has also raised objections to the chief justice's discretionary powers regarding the appointment of judges.

On the other hand, senior lawyers recommend that as a matter of principle, only the best of the high court judges should be appointed as SC judges and the nomination for that should be based on competence, integrity, performance and juristic ability – and not necessarily on seniority.

CJP proposes elevation of PHC chief justice to SC

"Firstly, such appointment is not a promotion; secondly, the SC is the final court of appeal so every decision should state reasons with utmost ability; the SC exercises most significant and unusual power while exercising its original jurisdiction under Article 184 of the Constitution; all decisions of the SC serve as precedents to be followed all over the country," observes PBC.

"This raises legitimate concern that while dispensing with seniority, the power to elevate judges in the SC might be subjected to arbitrariness and favouritism. Therefore, we, in the last PBC meeting, demanded structuring of this discretionary power by the JCP while amending its rules."

A PBC member believes that before ruling out any possibility of fair structuring of discretion by the JCP in this regard, it would only be appropriate to give it a chance to propose workable amendments, as the alternative of adhering to the principle of seniority will only ensure status quo.
COMMENTS
Comments are moderated and generally will be posted if they are on-topic and not abusive.
For more information, please see our Comments FAQ