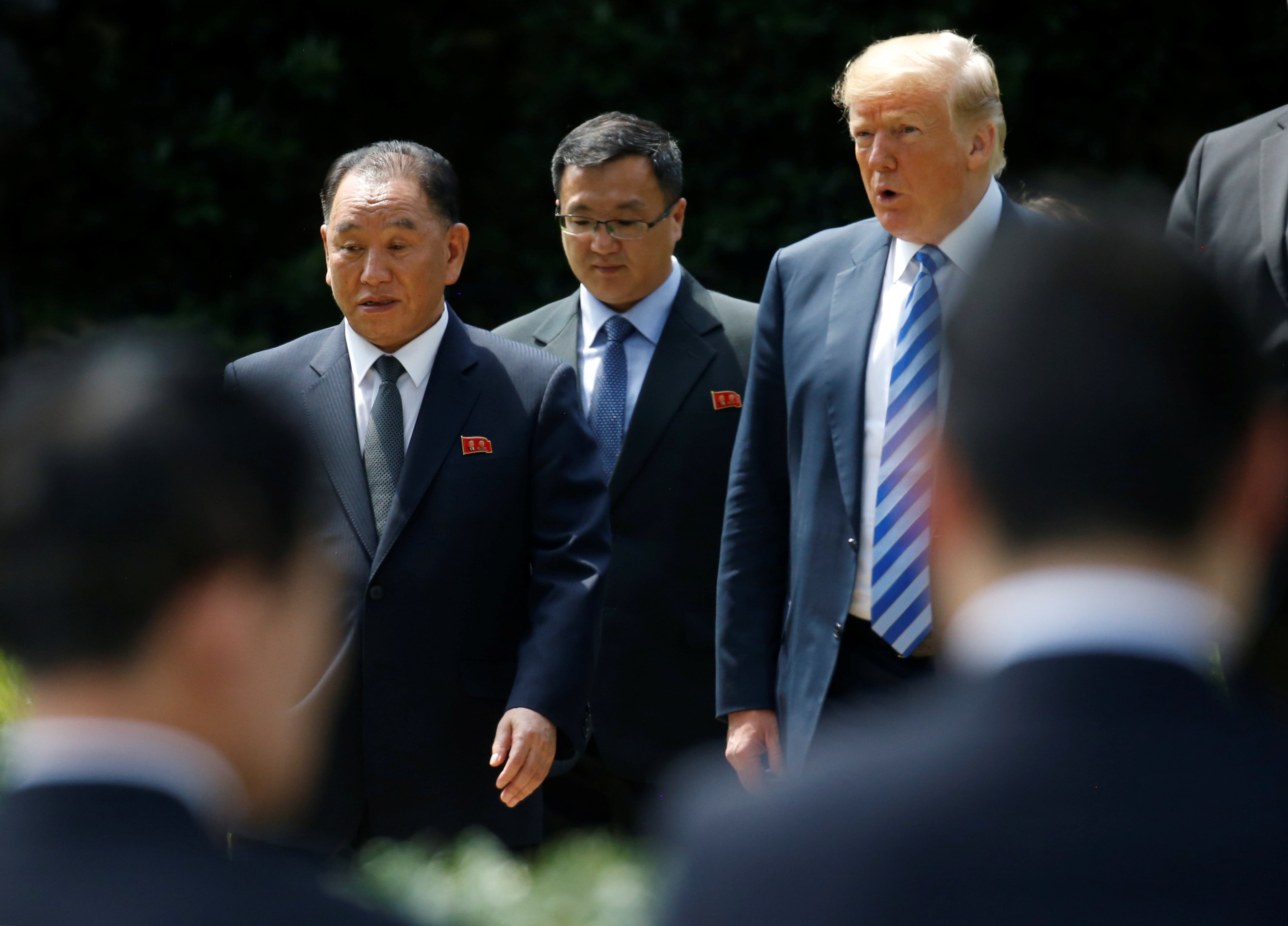 ---
WASHINGTON: President Donald Trump said on Friday an unprecedented nuclear arms summit with North Korean leader Kim Jong Un that the United States pulled out of will now go ahead as scheduled on June 12 in Singapore, adding another twist to a high-stakes diplomatic dance.

After giving North Korea's former intelligence chief the rare honour of a meeting in the White House Oval Office, Trump dampened expectations for a breakthrough at the summit, which US officials want to use to press Pyongyang to give up its nuclear weapons arsenal.

"I think it's probably going to be a very successful, ultimately a successful process," Trump told reporters on the White House lawn.

Trump described the Singapore summit as the start of a process and not the place where the two leaders were likely to sign any agreement, a stark contrast to his previous insistence that the summit had to yield real progress toward North Korea's denuclearization.

"It'll be a beginning. I don't say, and I've never said, it happens in one meeting," Trump added.

His comments represented an extraordinary change in tone toward North Korea from a president who last year threatened to rain "fire and fury" on the country because of the threat its nuclear weapons and missiles pose to the United States.

Top North Korean general to meet Pompeo ahead of US summit

Trump even backed away from the words "maximum pressure" that his administration had used to describe its approach to North Korea, combining the toughest-ever US and international economic sanctions with diplomatic actions and the Republican president's military threats and preparations.

"We're getting along, so it's not a question of maximum pressure," Trump said. "At some point, hopefully ... for the good of millions of people, a deal will be worked out."

"Frankly, I said, 'Take your time,'" added Trump, describing his conversation with visiting Kim Yong Chol, a close aide to the North Korean leader.

Trump said it could take several meetings to reach an agreement.

The envoy, who has been linked by US intelligence to a high-profile cyber attack on Sony Pictures in 2014, delivered a letter from Kim Jong Un to Trump. A senior White House official said Trump had read the letter but there was no word yet on the contents.

Trump said one thing that could come out of the summit was an agreement formally ending the 1950-53 Korean War, which was concluded only with a truce, not a peace treaty.

"We are going to discuss it prior to the meeting. That's something that could come out of the meeting," Trump said when asked if a document ending the war was bring prepared.

Trump said North Korea's human rights record was not discussed at the meeting.

North Korea, whose nuclear ambitions have been a source of tension for decades, has made advances in missile technology in recent years but Trump has sworn not to allow it to develop nuclear missiles that could hit the United States.

He wants North Korea to "denuclearize," meaning to get rid of its nuclear arms, in return for relief from economic sanctions. But the leadership in Pyongyang is believed to regard nuclear weapons as crucial to its survival and has rejected unilaterally disarming.

Trump abruptly called off the summit on May 24, citing North Korea's "tremendous anger and open hostility" after Pyongyang sharply criticized US Vice President Mike Pence and Trump's national security adviser, John Bolton.

"I cancelled it in response to a very tough statement, and I think we're over that, totally over that," Trump said on Friday.

Wall Street took word from Trump that the summit was back on in stride. The S&P 500  added slightly to what were already healthy gains, then slipped back a few points to remain up 0.9 per cent in afternoon trade. The US dollar index .DXY added modestly to again.

Trump to receive Kim letter as nuclear summit takes shape

The North Korean envoy, Kim Yong Chol, was the highest level figure from the reclusive country to hold talks at the White House since a senior envoy visited former President Bill Clinton in 2000. He is vice chairman of the ruling Workers' Party's Central Committee.

Trump met him in the Oval Office for about 90 minutes. The pair could be seen chatting on the White House grounds following the meeting. Trump patted him on the arm and walked him to his vehicle.

Kim Yong Chol once served as a bodyguard to the current leader's father, Kim Jong Il, and was previously chief of the Reconnaissance General Bureau, a top North Korean military intelligence agency.

In 2015, then US director of national intelligence, James Clapper, described Kim Yong Chol as "the guy who ultimately would have to okay the cyber attack against Sony" in 2014.

Alleged North Korean hackers infiltrated Sony's systems and destroyed computers and laptops, apparently in retaliation for the entertainment company's comedy movie "The Interview" that parodied North Korea's leadership.

Kim Yong Chol has featured at the top or high up in lists of North Korean officials targeted by US Treasury sanctions, including for supporting his country's nuclear and missiles programs and proliferation of weapons of mass destruction.

He was also targeted by the Treasury Department over the cyber attack. He was granted special permission to travel to the United States for meetings this week with top US officials, the State Department said.

He was accused by South Korea of masterminding deadly attacks on a South Korean navy ship and an island in 2010.

North Korea denied any involvement in either incident.

Aaron David Miller, a foreign policy expert at the Wilson Centre think tank in Washington and a former Middle East negotiator for Republican and Democratic US administrations, called Trump's announcement "a real intel win" for North Korea.

Miller tweeted that Trump had agreed to "a risky summit without anything in his pocket" from Kim.
COMMENTS
Comments are moderated and generally will be posted if they are on-topic and not abusive.
For more information, please see our Comments FAQ