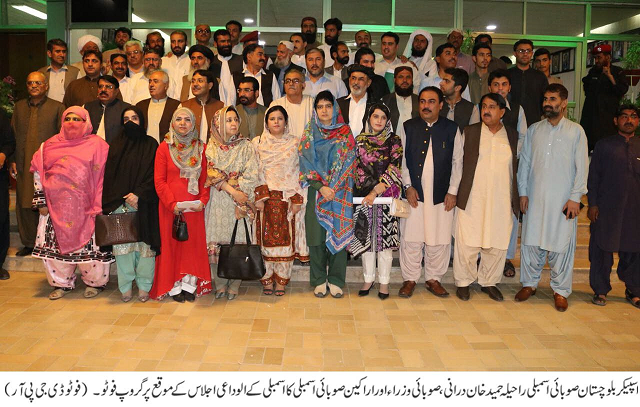 ---
QUETTA: The Balochistan Assembly on Friday stood dissolved after the successful completion of its five-year tenure. However, Speaker Rahila Hameed Khan Durrani did not preside over the last session on Thursday citing the indecent behaviour of the Pashtoonkhwa Milli Awami Party (PkMAP) MPAs on the floor of the house on Wednesday.
The PkMAP MPAs had strongly reacted to the presentation of an assembly committee's report on Mir Chakar Khan Rind University, Sibi. The PkMAP MPAs are said to have a major problem with the name of the university.

Extra effort needed to strengthen country: BA speaker

One of the members Nasarullah Zerey even went as far as attacking and attempting to drag Home Minister Sarfraz Bugti, but other MPAs intervened and prevented them from attacking each other.

It was total chaos as despite repeated orders of the speaker to behave like respectable citizens, PkMAP MPAs continued to take to the floor interrupting speeches of other members from the government side.
The speaker left the house, handing over the chair to Panel of Chairmen member Yasmin Lehri, who also faced the same humiliating situation till the session was adjourned.

During Thursday's session that started in the evening, Home Minister Bugti pointed out that Speaker Rahila was not presiding over the session due to the unpleasant incident that took place the other day.

Bugti urged the assembly members to go and bring the speaker to preside over the session. However, the assembly officials confirmed that Speaker Rahila did not attend the session in protest against the unruly behaviour of the opposition members.
Once again uproar was witnessed over the issue and some harsh words were exchanged between Bugti and PkMAP MPAs. However, Lehri controlled the situation and continued with the proceedings.

Balochistan Assembly session marred by pandemonium

Three opposition members, Dr Shama Ishaq of National Party, Arifa Siddiq and Sposmay Achakzai of PkMAP protested in the house for not moving a bill about child marriage in the house. They staged protest in front of the speaker's desk and chanted slogans.
Dr Ishaq deplored not presenting the bill for approval in the assembly despite including it in the assembly's agenda. The assembly proceedings remained suspended for about half an hour due to the protest of female members.
However, the session resumed after female members ended their protest on the assurance of the home minister and chief minister about the bill.
It is pertinent to mention that during the budget session, the PkMAP MPAs had tried to vent their anger at MPA Shahida Rauf while she was presiding over the session. They had resorted to abusive language and even tried to harm Rauf physically and they might have even succeeded had it not been for the timely intervention of other MPAs. The PkMAP MPAs were expressing their anger for not being taken on board while allocating funds for development projects during the budget.