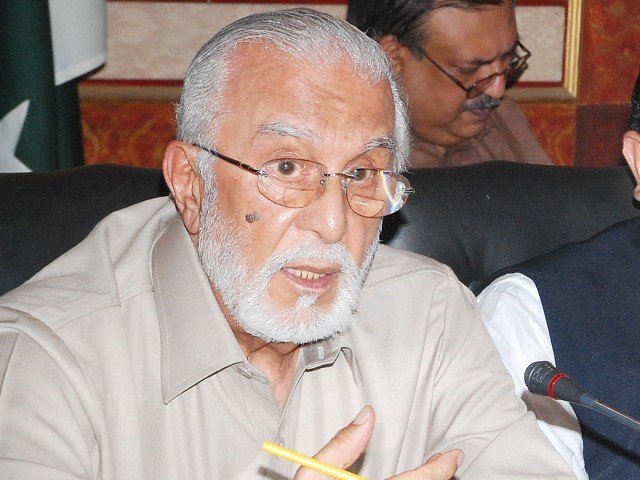 ---
LAHORE: [fbvideo link="https://www.facebook.com/etribune/videos/2347629785254034/"][/fbvideo]

Zulfiqar Khosa quit the Pakistan Muslim League-Nawaz to join Pakistan Tehreek-e-Insaf (PTI) on Friday.

PTI, however, refused to accept his son Dost Muhammad Khosa into the party fold due to the 'Sapna case'.

Talking to media, PTI Chairperson Imran Khan welcomed Zulfiqar Khosa into the party. He said that his party wants elections to be held according to the schedule.

"2018 elections will change the fate of the country," Khan said and added that neutral umpire was necessary for the elections.


Sardar Zulfiqar Khosa joins PTI after meeting with Chairman Pakistan Tehreek-e-Insaf Imran Khan. #PTI pic.twitter.com/NxhatHrV0t

— PTI (@PTIofficial) June 1, 2018


Imran expels convicted rapist Farooq Bandial from PTI amid social media backlash

Imran Khan went to Khosa's residence along with other leaders including Shah Mehmood Qureshi, Jahangir Tareen, Abdul Aleem and Zain Qureshi, where Khosa announced that he was joining PTI.

"Social media has become a great power…Farooq Bandial had been in PML-N since long…happy that his joining PTI created a hue and cry," Khan said, referring to the brouhaha from a day earlier.

He said there were no caretaker arrangements in other countries of the world but their institutions are strong. "The caretaker setup failed in the last elections," said Khan adding, "A government that comes into power is not trusted."

With regards to the caretaker CM, Khan said that PTI had nominated Nasir Khosa but it created too much hue and cry. "The purpose is transparent elections."

"The judicial commission gave a decision on the 2013 elections which we accepted and did not return to the roads…PTI also accepts the Khawaja Asif judgment," he said.

Nominated interim K-P CM calls on Imran Khan

Khan also expressed his desire that Fata members be integrated into the K-P Assembly at the same time.

Zulfiqar Khosa said he trusted Imran Khan and was joining PTI for this reason. "Muslim League has become 'N league' now," he said, adding, "When Nawaz Sharif came into power, ministers of Musharraf became ministers in the PML-N cabinet as well."

He said that he left PML-N when it was at its peak. "I held their flag when they had fallen," Khosa added.

Later, Khan also participated in a fundraising event for the Shaukat Khanum Hospital and had meetings with party leaders at the office of Abdul Aleem Khan.