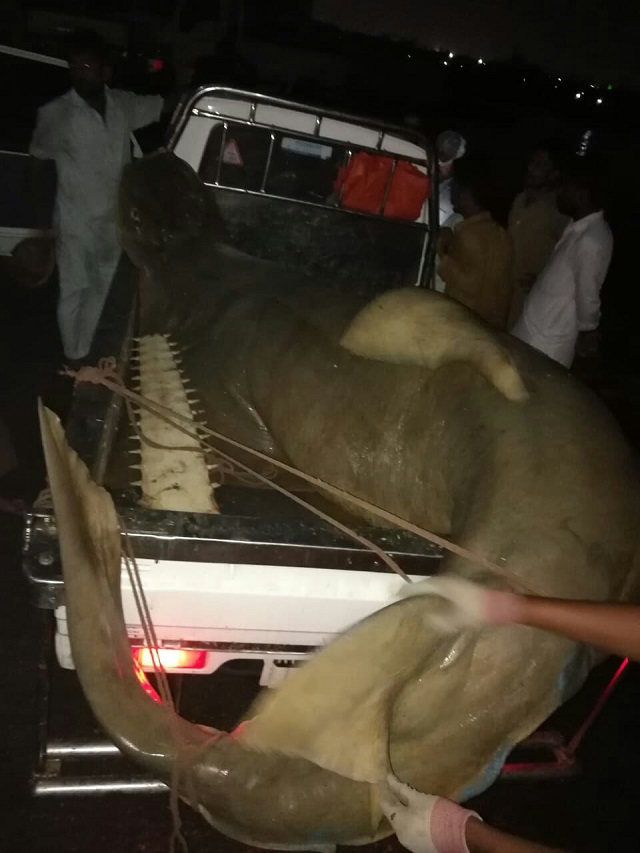 ---
KARACHI: A 15-feet long giant sawfish was caught on May 26 by fisherman Muhammad Siddique between the mouth of Turchan and Khajar creek of the Sindh coast.

Shrimp trawler Al Zahid Ali caught the dead but gigantic sawfish - locally known as liara, in its net. Due to the large size and heavy weight of the female large-tooth sawfish, fishermen used a crane to heave it on their boat.

The sawfish was estimated to weigh approximately 1,320 kg. It was offloaded at Ibrahim Hyderi and auctioned the same day.

Pakistan Navy delivers medical assistance to Yemeni fishermen

Sawfishes are among the rarest group of marine animals whose population is globally threatened with extinction due to overfishing. Three species of sawfishes namely knife-tooth (Anoxypristis cuspidatus), large-tooth (Pristis pristis) and large-comb (Pristis zijsron) have been reported in the Pakistani sea.

There was an abundance of sawfish in Arabian Sea prior to the 1980s but because of the vulnerability of this species, specially the presence of a large rostra (saw) in front of their head, its population rapidly collapsed in Pakistan and since 1985, there are no commercial fisheries in existence.