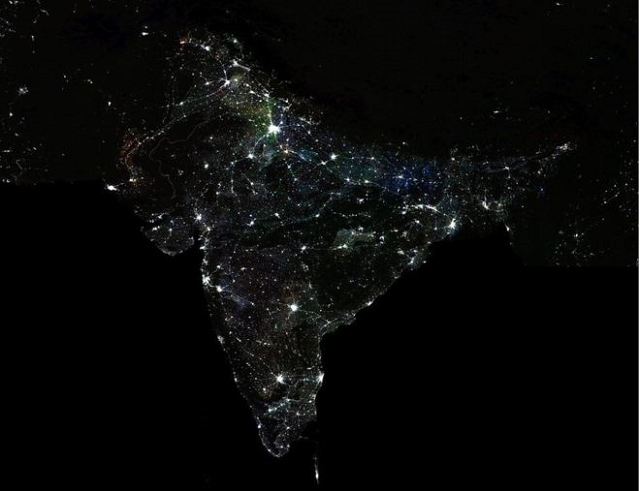 ---
Satellite images capturing night lights in India has helped two economists document economic inequality in the country, according to BBC.
Economists Praveen Chakravarty and Vivek Dehejia believe the images of night lights from earth are indicators of economic inequality.
My piece on what night lights captured from outer space tell us about regional inequality in India, based on some stellar research by @pravchak and @vdehejia https://t.co/jTo0liUUlu

— Soutik Biswas (@soutikBBC) May 27, 2018



The duo acquired images grabbed by satellites of the US Air Force Defence Meteorological Satellite Programme.




The satellites circle the earth 14 times a day, recording lights from earth's surface during the night with the help of sensors. The researchers superimposed a map outlining Indian districts on the images, which allowed them to develop unique luminosity values, according to district and time.


The economists used the night lights to gather data and study 387 out of 640 districts from 12 states. Using this innovative method, the researchers documented income disparity in the districts. The districts hold 87% of the Indian population, 80% of its GDP and 87% of its parliamentary seats.

India borrowed our economic plans, claims Ahsan Iqbal

Most of India appeared to be dark because there was little ongoing economic activity. On average, 380 districts in 12 districts were just a fifth as bright as Mumbai and Bangalore.

90% of all  districts were just a third as bright during the night as the top 10% of  districts. The ratio also worsened between 1992, a year following Indian economic reforms, and 2013.

A modest trend towards convergence of income preceded 1991, but the years after show a widening divergence between states. The economists found that by 2014, the average person in the richest states (Kerala, Tamil Nadu, Maharashtra) was three times as rich as the average person in the poorest states (Bihar, Uttar Pradesh and Madhya Pradesh).




According to senior fellow at Mumbai-based think tank IDFC, Dr Dehejia, the government ought to use night lights as a proxy to measure economic activity. "We have a paucity of good data in India. And no single data set is a silver bullet".


Using night lights for data can have its difficulties. Researchers must account for the phases of the moon that varies the amount of light on earth. Aerosols, water vapour, extraneous light and ozone can cause  atmospheric effects.

Over 25m people apply for 1.3m railway vacancies in India

New sensors on satellites, however, have afforded richer spatial details, detecting dim lighting and lit roads. Scientists have been developing updated software to capture clearer, accurate images that are more readily available.

Researchers have tracked urban expansion and land-use changes through night lights over time. Light intensity has been used to estimate use of energy, night lights to track conditions in conflict-affected areas and to help with disaster response.

It has been used to record, study and explain, among other things, fluctuations in infectious diseases, mapped carbon emissions and light pollution.

Bhartendu Pandey of Yale University said,"In other words, night lights observed from more than 800km  above the surface of the earth tell us a story about human activities and dynamism that no other data source does."

This article originally appeared in

BBC News