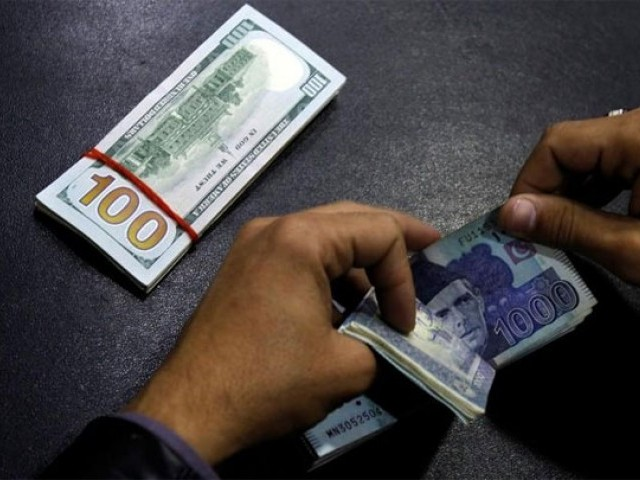 ---
KARACHI: Pakistan's currency continued to remain under pressure against the US dollar in the open market, dropping to a low of Rs119.05 on Friday, as amended rules and regulations kicked into force in the outgoing week.

According to reports, the rupee was also being traded at Rs119.5 to the dollar as some currency dealers took advantage of the situation.

The rupee closed at Rs118.55 on Thursday, and weakened further to Rs119.05 a day later. This is Rs0.25 less than the record high closing of Rs119.30 recorded on April 25, 2018, according to forex.pk.

In the inter-bank market, the rupee, however, remained stable at Rs115.61, according to the State Bank of Pakistan (SBP).

Rupee weakens to over Rs119 against dollar in open market as panic buying continues

"Short supply of dollars is causing rupee weakening," Exchange Companies Association of Pakistan General Secretary Zafar Paracha told The Express Tribune.

Open market: Dollar surges to Rs118.7 amid supply shortage

The supply of dollars in the open market has reduced to half after the government introduced a regulation that requires the person to show identification before buying or selling foreign currency in the excess of $500.

In addition, rumours over another round of devaluation also fueled the rupee's slide, he added.

"People may be hoarding dollars since they see another round of devaluation ahead of the elections and change of the elected government this year," he said.

Rupee has weakened against all major currencies

"It is unusual in Ramazan that currency dealers receive low inward remittances. Historically, we used to receive higher amounts during Ramazan."

Earlier this week, Moody's Investors Service - one of the top three global credit rating agencies - forecasted that Pakistan's rupee could shed value by another 7.75% and its worth may go as low as Rs125 to the dollar by June next year.

In the recent past, the SBP has devalued the rupee by 9.5% in two rounds (5% in December 2017 and 4.5% in March 2018) in the inter-bank to help narrow down the widening current account deficit and save fast depleting foreign exchange reserves of the country.

Finance Minister Miftah Ismail has categorically denied a further devaluation while SBP Governor Tariq Bajwa has said the rupee is near its true equilibrium.

Earlier this week, the SBP said that all buy and sell transactions in foreign currency equivalent to $500 or above will require exchange companies to obtain and retain copies of identification documents - CNIC, NICOP or passport in the case of a foreigner. The move came as Pakistan looks to strengthen the 'anti-money laundering and combating financing of terrorism' regime ahead of the Financial Action Task Force (FATF) meet-up in June.

Resultantly, the dollar rate has started to increase.

"Currency dealers (nationwide) cumulatively buy around $2-3 million each day from individuals in the open markets. This supply dropped to less than $1 million," said Forex Association of Pakistan President Malik Bostan.

"Buyers and sellers prefer to purchase and sell foreign currencies from unauthorised and unregistered currency dealers…this is the reason behind the low supply of dollars to legal currency dealers," he added. 

Published in The Express Tribune, May 26th, 2018.

Like Business on Facebook, follow @TribuneBiz on Twitter to stay informed and join in the conversation.
COMMENTS (3)
Comments are moderated and generally will be posted if they are on-topic and not abusive.
For more information, please see our Comments FAQ