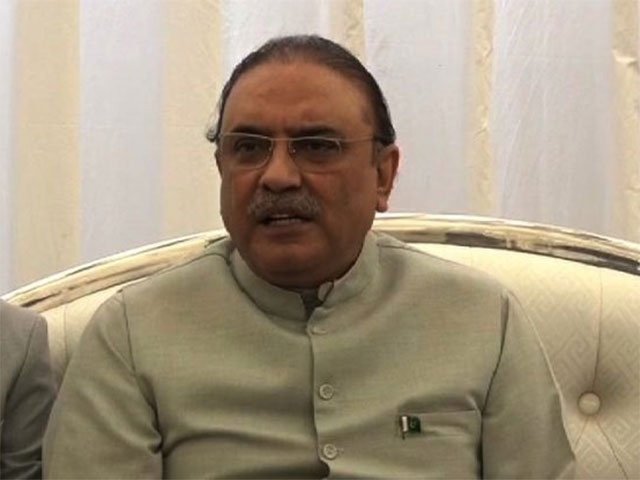 ---
ISLAMABAD : [fbvideo link="https://www.facebook.com/etribune/videos/2338736806143332"][/fbvideo]

There is no need to bridge the gap in opinion between the leader of the opposition in the National Assembly and the prime minister, former president Asif Ali Zardari told reporters here on Friday.

He said that according to law, the caretaker prime minister's role was very limited.

The former president denied former prime minister Nawaz Sharif's assertion regarding holding a meeting for endorsing the November 2007 emergency rule.

Accusing the former PM of duplicity, he said that Sharif's actions and words did not match.

He pointed out that Nawaz Sharif's government had submitted an affidavit in the Supreme Court, stating that it had no objection if General (retired) Pervez Musharraf left the country even as the trial of the former military dictator was under way.

Zardari insisted that it was him who had actually forced Musharraf to resign in 2008.

Bearing the brunt of Musharraf trial, says Nawaz Sharif

He also maintained that after the 2008 elections, the PPP had allowed the PML-N to form government in the Punjab as part of his policy of reconciliation.

"If I had wanted, they (the PML-N) would never have been able to form the government in Punjab," he said. The PPP, he said, was still suffering because of that decision.

Commenting on Maryum Nawaz's appearances in the accountability court, Zardari said that he was not happy to see anyone's daughter facing jail term. But, he said, her father had led her to this situation.

Zardari recalled how his wife, Benazir Bhutto, had been dragged in courts by Nawaz Sharif.

Elaborating his party's position, he said that the PPP was not supporting the establishment, instead it supported Pakistan.

"We are not (in collusion) with the establishment. We are with Pakistan," he remarked.

Nawaz, he said, was waging a war against the country to protect his vested interests.

Commenting on MQM's demand for carving Karachi as a separate province, Zardari said everything needed a historical perspective, including the formation of any new federating unit.

"How can you gouge out the country's financial capital (from Sindh)?" he said.


COMMENTS
Comments are moderated and generally will be posted if they are on-topic and not abusive.
For more information, please see our Comments FAQ