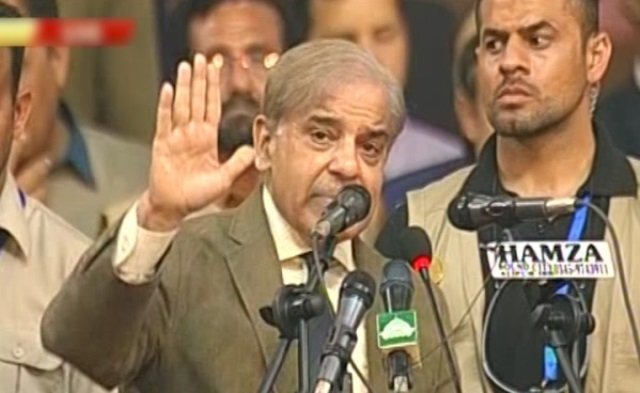 ---
LAHORE: Highlighting the ruling Pakistan Muslim League-Nawaz (PML-N) performance at the Centre and Punjab in terms of establishing power projects, the party's chief and Punjab Chief Minister Shehbaz Sharif on Thursday blamed the failure to end load-shedding in the country on political turmoil.

"Had there been no sit-ins, the load-shedding would have been totally eliminated from the country," Shehbaz said in a reference to the 2014 marathon protest by the Pakistan Tehreek-e-Insaf (PTI) and Pakistan Awami Tehreek (PAT) in Islamabad.

Shehbaz said this while visiting Punjab's district Jhang to review the pace of progress on installation of Haveli Bahadur Shah Power Plant, the fourth gas-based energy project.

Power production surges 48% in April, but load-shedding persists

Shehbaz, who during election campaign for 2013 polls had claimed he will end load-shedding in months, also took the opportunity to ridicule performance of the PTI-led Khyber Pakhtunkwa (K-P) government and Pakistan Peoples Party (PPP) led Sindh government with regard to provision of electricity.

The CM said Imran Khan's party only produced minus six megawatt electricity during the last five years while Zardari government installed just 15MW electricity project in Nooriabad.

"Earlier there was an 80MW project in K-P which became dysfunctional in 2016 but the PTI government set up 74MW project instead of rectifying the existing one. That is why I say that they have produced minus six megawatt electricity," he said.

He said the PML-N government established 5,000 MW electricity generation projects with its own resources while thousands of megawatts electricity projects are also set up under the China-Pakistan Economic Corridor (CPEC) project.

"To err is human and we are also human beings but we [the PML-N] have tried our level best to serve the masses and we have been successful in it. The people should decide for themselves by reviewing the performance of PML-N, PTI and PPP governments," he said.

He said today there is ample electricity and 800MW additional electricity will be produced by second project of Haveli Bahadur Shah in December to fulfill the energy needs of the future.

Review of the project

Earlier, Shehbaz visited Haveli Bahadur Shah and got a briefing on the second phase of the power plant. He was told that this second gas-based energy project will produce 1,242.7MW electricity.

Government is setting up two energy power projects while as many power plants are being installed by the Punjab government. Three energy projects are totally functional in Haveli Bahadur Shah, adding 3,600MW to the national grid. The fourth 1242.7 MW single cycle energy project which is being set up by the Punjab government will start functioning in December.

Speaking on the occasion, the CM said 4,800MW energy projects have been speedily completed by maintaining transparency. Rs160 billion have been saved in four gas-based power projects, he added.

He said promises made with the nation about elimination of energy crisis are being fulfilled and production of 1,800MW from Haveli Bahadur Shah Power Plant is a proof of their commitment.

Shehbaz said 18,000MW electricity was generated during the 66 years but during the last five years, 11,000MW electricity was added to the grid by the PML-N government.

He said the PML-N government has set up projects at half the price as compared to gas-based projects installed in Zardari and Musharraf eras. During the previous tenures, each project of 375 MW capacity was erected at a cost of $902,000 per megawatt.

K-E increases load-shedding as heatwave strikes Karachi

Guddu Power Plant of 720MW capacity was set up at a cost of $840,000 per MW. The 209MW Hillmore gas power plant was set up at a cost of $824,000 per megawatt cost. The PML-N government set up gas-based four projects at half this price.

The federal government set up 1,207MW Haveli Bahadur Shah Project at a cost of $488,000 per MW and 1,200MW Baloki gas power plant at a cost of $469,000 per MW. Similarly, 1,180 MW Bhikki gas power plant has been set up at a price of $466,000 per megawatt.

"This project is being set up at a cost of $418,000 per megawatt. This fourth project has broken all the records as the fourth project is cheaper than the three earlier projects. The same can also be got verified from some financial expert," the PML-N chief added.
COMMENTS
Comments are moderated and generally will be posted if they are on-topic and not abusive.
For more information, please see our Comments FAQ