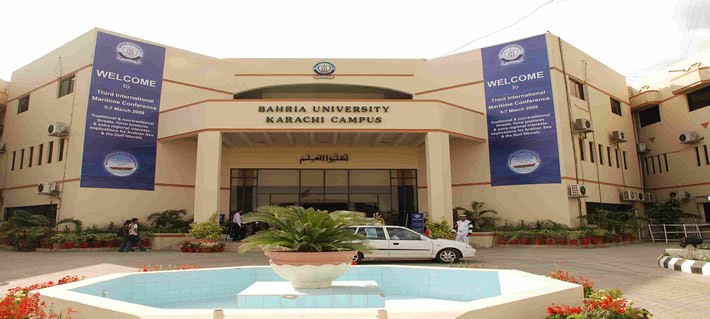 ---
ISLAMABAD/ KARACHI: The Bahria University in Karachi has come under fire for a notification directing male and female students to maintain 'six-inch' distance between them.

A copy of the notification outlining dress code received major backlash after it went viral on social media. "All the heads of departments and security are to ensure that male and female students sit/stand at least six inches away from each other," reads the document. It also "strictly forbids" 'touching' of male and female students.


Life-threatening illnesses: Bahria varsity students organise blood donation drive


Those found violating the rules will be slapped with fines by the university.




The university has since been mocked on social media and urged to withdraw the directives.

https://twitter.com/arrayalii/status/998168921432821760


When i see couple in Bahria University pic.twitter.com/OnNcikXNdL

— Zack (@Its_Zulkafil) May 20, 2018


While some wondered the logic behind 'six' inche distance...

https://twitter.com/mojothemujtaba/status/997860398228561922

Criticisting the rules laid out, Federation of All Pakistan Universities Academic Staff Associations (FAPUASA) urged the university to withdraw the notification.

"Such notifications show incompetence of university management and smudge image of higher education institutions," said a member of Fapuasa.

It gives an impression that Pakistani universities are busy in everything except academics, said president of Islamabad chapter of Fapuasa, Shehzad Ashraf Chaundry. Dwelling further, he said the notification mentioned that the measure were in light of Ramazan. "Does that mean the rules do not apply rest of the 11 months?" he asked as he maintained that such rules created untoward situations for students and their families. "Universities should concentrate on quality education. Unfortunately the lack of interest in raising standards of higher education has led to low rankings of our institutes."

However, Bahria remains adamant. "The notification maintains discipline and protects our religious and ethical values. It is our right to ensure dress codes and discipline in accordance with our religious and cultural values. All universities maintain dress codes," said the universty's public relations officer Mehwish Kamran.

She added that it was the university's responsibility to ensure personal space and discipline within the university premises. "We have committees in place for addressing harassment complaints. Touching of men and women cannot be allowed openly."